Mo Salah, Heung-Min Son Share Golden Boot As Ederson, Alisson Share Golden Glove
22nd May 2022 - by Louis Kalinga
Also, Manchester City goalkeeper Ederson and Liverpool number one Alisson will share the Golden Glove award after finishing the season on 20 clean sheets each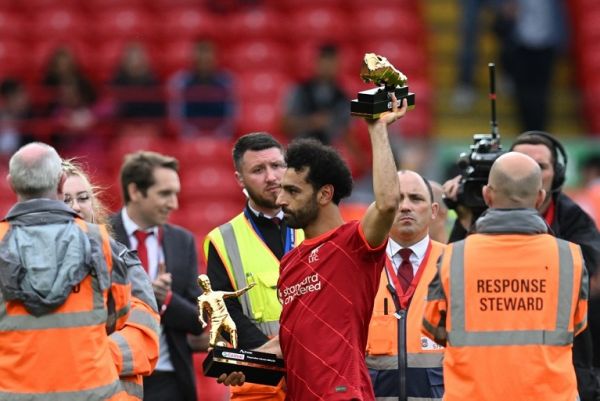 SUMMARY
Mohamed Salah and Son Heung-Min will share the English Premier League Golden Boot Award after both players finished the season tied with 23 goals
Salah came into the final day of the season leading the charts with 22 goals and came off the bench to bag an extra one to wrap up his tally for the campaign
This is the third time Salah has won the award after winning the Golden Boot in 2017-18, when he scored 32 times, and in 2018-19 season, when he finished with 22 goals
Mohamed Salah and Son Heung-Min will share the English Premier League Golden Boot Award after both players finished the season tied with 23 goals.
Salah came into the final day of the season leading the charts with 22 goals and came off the bench to bag an extra one to wrap up his tally for the campaign.
Son, on the other hand, scored twice as Tottenham Hotspur confirmed their spot in next seasons Champions League with a 5-0 thrashing of relegated Norwich.
This is the third time Salah has won the award after winning the Golden Boot in 2017-18, when he scored 32 times, and in 2018-19 season, when he finished with 22 goals.
Son struck nine times in his last 10 games, including six in his final five, to shoot up the scoring charts and also bagged a hat-trick this season, in a 4-0 win at Aston Villa in April.
Salah also took the match ball home with him once this season after he bagged a hat-trick against Manchester United in a 5-0 triumph.
Also, Manchester City goalkeeper Ederson and Liverpool number one Alisson will share the Golden Glove award after finishing the season on 20 clean sheets each.
Ederson has missed just one game for the Premier League champions this term - a 2-0 win over Burnley in October - while Alisson was only absent for the Reds' 5-0 win at Watford in October and the 2-2 draw at Stamford Bridge in January.