Mighty KCB Comeback Gifts Them 4th Consecutive Kenya Cup Title
5th September 2021 - by Louis Kalinga
Darwin Mukidza drilled home a sudden death penalty as KCB came from a 20-0 halftime deficit to stun Kabras 28-25 at the Nandi Bears Club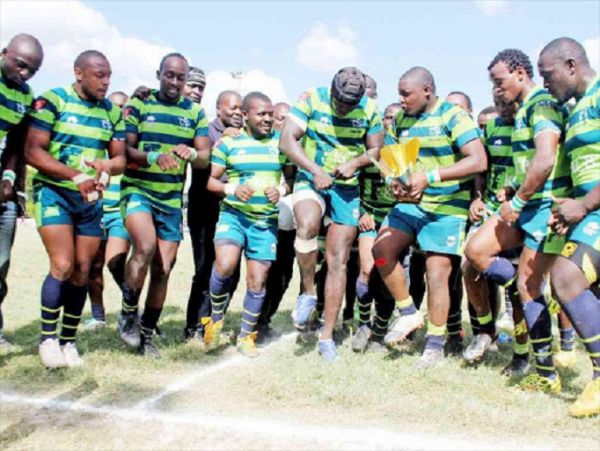 SUMMARY
KCB RFC made history on Saturday as they pulled off a mighty comeback against Kabras Sugar to retain the Kenya Cup title for a fourth year running
In a match which was marred by long stoppages with scary injuries, KCB scored three tries and a penalty to tie the scores at 25-25 at the end of the 80 minutes before a late penalty sealed the title
Kabras scrum half Brian Tanga was awarded with the Kenya Cup Top Try Scorer award after finishing with seven tries as his counterpart Ntabeni Dukisa won the Top Points Scorer award

KCB RFC made history on Saturday as they pulled off a mighty comeback against Kabras Sugar to retain the Kenya Cup title for a fourth year running.

Darwin Mukidza drilled home a sudden death penalty as KCB came from a 20-0 halftime deficit to stun Kabras 28-25 at the Nandi Bears Club.
This was the fifth time that the two rivals were meeting in the final and when it looked like Kabras had finally found a way past the bankers, KCB pulled off the remarkable comeback.
In a match which was marred by long stoppages with scary injuries, KCB scored three tries and a penalty to tie the scores at 25-25 at the end of the 80 minutes before a late penalty sealed the title.
Speaking after the win, KCB head coach Curtis Olago said he could not believe his eyes that they won the clubs eighth Kenya Cup title.

"Unbelievable! I give thanks to God for this opportunity to be part of history."
"I congratulate the players, technical bench and all our fans for the support. It was a really entertaining game and I give thumps up to the players for not giving up," said Olago.
Vincent Onyala's last gasp try converted by Johnstone Olindi sent the game to extra time and the bankers had it within their tanks to pull over a win and clinch their fourth successive Kenya Cup conquest.
Kabras were quick off the blocks and led 6-0 courtesy of a pair of converted penalties by Ntubeni Dukisa.
A brace from Jone Kubu, both of which was converted by Dukisa further added to their brilliant start. Kubu, a Fijian who has been naturalized as a Kenyan landed the game's first try when the ball was sprayed to the right off a scrum.
"It was a very close game to lose after leading 20-0 but that is the way of the game. Congratulations to KCB for the win but we will be back.
"We have a young squad who came to play and showed their skills. Thanks to our fans and see you next season," said Kabras coach Dominque Habimana.
Kabras scrum half Brian Tanga was awarded with the Kenya Cup Top Try Scorer award after finishing with seven tries as his counterpart Ntabeni Dukisa won the Top Points Scorer award.