Max Verstappen Takes Championship Lead After Spanish GP Victory
22nd May 2022 - by Louis Kalinga
After Leclerc's misfortune, Verstappen takes the lead in the championship with 110 points, with the Monegasque in second with 104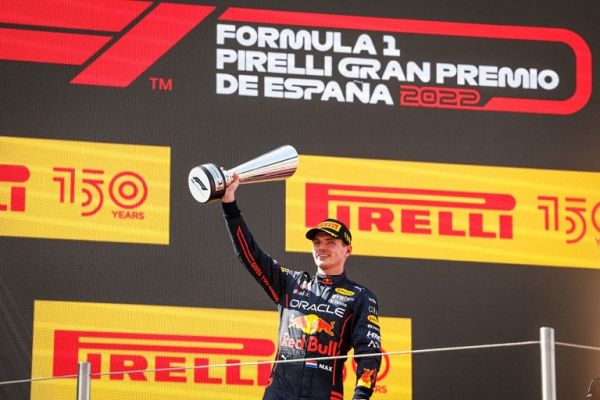 SUMMARY
Max Verstappen battled through a crazy drive to lead a Red Bull 1,2 in the Spanish Grand Prix on Sunday to take the lead in the championship standings
The Formula One champion continued his streak of winning every race that he has finished this season ahead of his teammate Sergio Perez in second
There is only one week for the teams to regroup before battling it out in the Monaco Grand Prix next Sunday
Max Verstappen battled through a crazy drive to lead a Red Bull 1,2 in the Spanish Grand Prix on Sunday to take the lead in the championship standings.
The Formula One champion continued his streak of winning every race that he has finished this season ahead of his teammate Sergio Perez in second.
George Russell of Mercedes closed off the podium while his teammate Lewis Hamilton was awarded driver of the day after finishing in fifth.
Hamilton was fighting for fifth with Carlos Sainz going into Turn Four on the first lap, but he collided with Magnussen as the Dane tried to go around the outside and punctured his left-front tyre.

Verstappen has had his share of bad luck this season, with two retirements from the first three races, but he certainly enjoyed some good fortune in Spain.
Charles Leclerc was on course for a comfortable victory after a rare error from Verstappen saw the world champion spin into the gravel at Turn Four on lap nine.

The race had looked finely poised between the two until that point, with Leclerc leading by two seconds, but Verstappen's spin changed the complexion of the race.
Local boy Fernando Alonso drove superbly to recover to ninth after the two-time champion started from the back because of an engine change before the race.
After Leclerc's misfortune, Verstappen takes the lead in the championship with 110 points, with the Monegasque in second with 104.
Perez is in third with 85 points, ahead of Russell and Sainz who round up the top five spots.
There is only one week for the teams to regroup before battling it out in the Monaco Grand Prix next Sunday.