Max Verstappen Reclaims Championship Lead After Dutch GP Victory
6th September 2021 - by Louis Kalinga
Verstappen, cheered on by 65,000 enthusiastic home fans, led all the way from pole position and claimed his seventh win of the 2021 campaign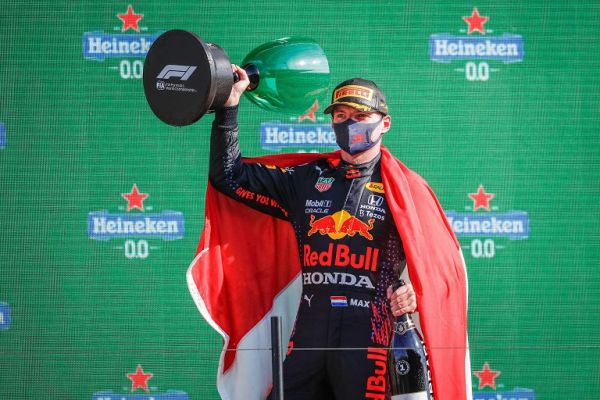 SUMMARY
Max Verstappen cruised to victory in the Dutch GP in front of his home crowd to reclaim the Formula One championship lead on Sunday
Lewis Hamilton came in second ahead of his Mercedes teammate Valtteri Bottas, who completed the podium
Next weekend concludes three straight weekends of F1 action as the drivers prepare for to go to Italy for the Monza GP

Max Verstappen cruised to victory in the Dutch GP in front of his home crowd to reclaim the Formula One championship lead on Sunday.
Verstappen, cheered on by 65,000 enthusiastic home fans, led all the way from pole position and claimed his seventh win of the 2021 campaign.
Lewis Hamilton came in second ahead of his Mercedes teammate Valtteri Bottas, who completed the podium.
Mercedes tried their best to challenge Verstappen, putting Hamilton on a two-stop strategy, then trying to use Bottas to hold him up, but Red Bull always appeared to be in control.
The 23-year old Dutchman moves to the top of the driver standings with 224.5 points, while Hamilton is second on 221.5 points.
Hamilton did pick up an extra point for the championship standings by recording the fastest lap time of the day but conceded defeat like a true sportsman.
"They were just too fast today.
"I gave it absolutely everything today, flat out, I pushed as hard as I could, but they were just too quick for us," the seven-time F1 champion Hamilton stated.
The victory was Verstappen's 17th of his embryonic career as he continues his quest to win a first ever championship title.
"Of course, the expectations were very high going into the weekend and it's never easy to fulfill that.
"I'm so happy to win here and to take the lead in the championship. It's just an amazing day with the whole crowd here. It's incredible," Verstappen said after the race.
Next weekend concludes three straight weekends of F1 action as the drivers prepare for to go to Italy for the Monza GP.