Max Verstappen Holds Off Alonso To Win Monaco Grand Prix
29th May 2023 - by Louis Kalinga
The win was Verstappen's fourth in six races this year, moving him 39 points clear of team-mate Sergio Perez in the championship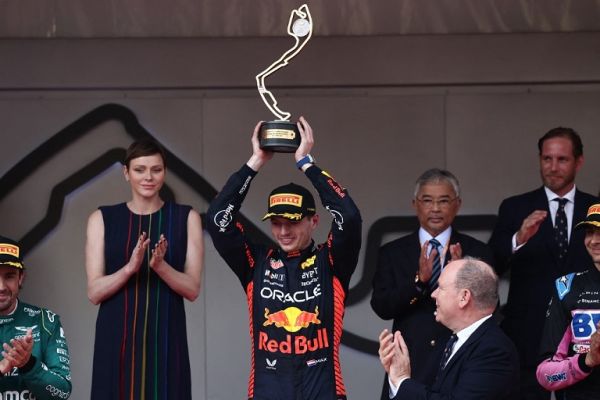 SUMMARY
RedBull's Max Vertsappen continued his dream start to the Formula 1 season as he cruised to victory in the Monaco Grand Prix on Sunday
Despite a mid-race downpour, the Dutchman kept his cool and was able to fend off Aston Martin's Fernando Alonso to claim his second ever Monaco win
It was all celebration at Alpine as they got their first podium of the season with Esteban Ocon enjoying a great drive to finish in third place
RedBull's Max Vertsappen continued his dream start to the Formula 1 season as he cruised to victory in the Monaco Grand Prix on Sunday.
Despite a mid-race downpour, the Dutchman kept his cool and was able to fend off Aston Martin's Fernando Alonso to claim his second ever Monaco win.
Alonso's second-place finish marked his fifth podium of a scintillating year for the 41-year old veteran in his Aston Martin.
It was all celebration at Alpine as they got their first podium of the season with Esteban Ocon enjoying a great drive to finish in third place.
The win was Verstappen's fourth in six races this year, moving him 39 points clear of team-mate Sergio Perez in the championship.
Perez had a weekend to forget in Monaco after crashing out of qualifying and only managing a 17th place finish in Sunday's race.
The rain started lightly on lap 51 and intensified slowly over the next few laps, but the fact it was initially largely over the section from Casino Square to the tunnel made decisions as to tyre choices difficult.
Several drivers, including Verstappen, had scary moments during this period, brushing the wall and struggling to find grip.
Oscar Piastri has scored points for the second time in a F1 race, finishing 10th in Monaco.
The Australian started 11th and stayed there for much of the race, directly behind his McLaren teammate Lando Norris.

Piastri benefited from the downpour on the track, briefly overtaking Norris for 10th, before the Briton retook the position.
The drivers immediately switch their focus to the Spanish Grand Prix on June 4, before they can take a two-week break ahead of the Canadian Grand Prix.