Max Verstappen Continues Dominance With First Ever Canadian GP Victory
20th June 2022 - by Louis Kalinga
Verstappen did extremely well to hold off pressure from Carlos Sainz who finished second, ahead of Lewis Hamilton in third place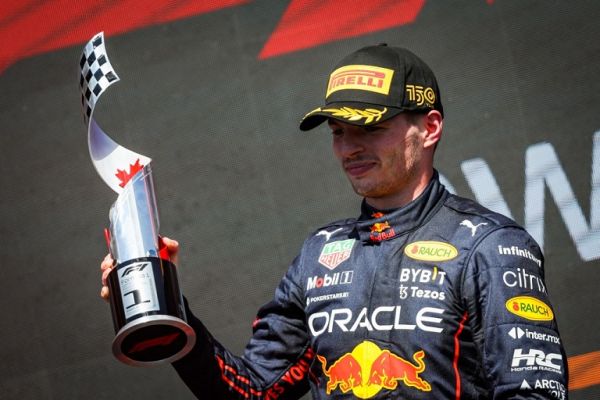 SUMMARY
World champion Max Verstappen extended his lead at the top of the standings as he cruised to his first ever win at the Montreal Grand Prix on Sunday
This was his fifth win in six races, Red Bull's sixth in a row, and his own sixth victory in nine races this season to further consolidate an ever-more convincing championship advantage
There will be a two-week break before the British Grand Prix at Silverstone, where Ferrari really need to halt Red Bull's momentum and try to hold off the improving Mercedes
World champion Max Verstappen extended his lead at the top of the standings as he cruised to his first ever win at the Montreal Grand Prix on Sunday.
Verstappen did extremely well to hold off pressure from Carlos Sainz who finished second, ahead of Lewis Hamilton in third place.
This was his fifth win in six races, Red Bull's sixth in a row, and his own sixth victory in nine races this season to further consolidate an ever-more convincing championship advantage.

Red Bull's Sergio Perez remains in second on the standings despite retiring from the race with an engine problem but is only three points ahead of Leclerc.
Fernando Alonso, who starred in wet qualifying to start on the front row for the first time in 10 years, suffered from a questionable strategy from Alpine and some technical issues to finish seventh, behind team-mate Esteban Ocon.
It was Verstappen's first Canadian victory in his 150th career start, his sixth this year and the 26th of his career, hoisting him 46 points clear of his rivals in the championship.
"I was giving it everything. But so was Carlos. He was pushing, charging, pushing, charging. Naturally, it's easier to charge with DRS! I had fun today," Verstappen said after the race.
Ferrari's Charles Leclerc, who started at the back of the grid after taking a penalty for a new engine, finished fifth and was crowned Driver of the Day for his efforts.
There will be a two-week break before the British Grand Prix at Silverstone, where Ferrari really need to halt Red Bull's momentum and try to hold off the improving Mercedes.