Lawrence Cherono, Nancy Jelagat Bag Kenyan Double At Valencia Marathon
6th December 2021 - by Louis Kalinga
Fully aware there would be bursts of wind of up to 60km/h throughout the race, the organisers readjusted the scheduled pace for both races and the women's contest opened at a steady rhythm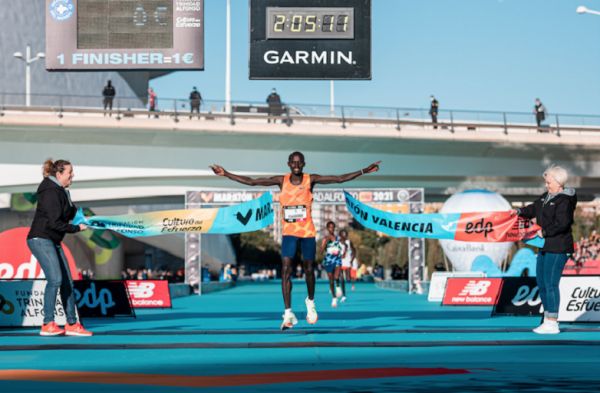 SUMMARY
Lawrence Cherono and Nancy Jelagat achieved a Kenyan double at the Valencia Marathon Trinidad Alfonso EDP, a World Athletics Elite Platinum Label event, on a windy Sunday which hampered the athletes' performances
Woldu finished runner-up in 2:20:16, while fellow debutante Degefa completed the podium in 2:23:04.
As was the case in the women's race, the men's contest kicked off conservatively at a 2:57/km speed, headed by pacemakers Alexander Mutiso, Bernard Ngeno and Victor Chumo.\

Lawrence Cherono and Nancy Jelagat achieved a Kenyan double at the Valencia Marathon Trinidad Alfonso EDP, a World Athletics Elite Platinum Label event, on a windy Sunday which hampered the athletes' performances.

Fully aware there would be bursts of wind of up to 60km/h throughout the race, the organisers readjusted the scheduled pace for both races and the women's contest opened at a steady rhythm.

The pacemakers led the field through 5km in 16:26 and 10km in 32:55, setting up the lead group for a sub-2:20 finish, which none of the competitors had done before.

"It was my first time here in Valencia but I promise to come back.I've improved my PB by 14 minutes, so I can't ask for more," Jelagat said after the race.
Woldu finished runner-up in 2:20:16, while fellow debutante Degefa completed the podium in 2:23:04.
Tusa was fourth in 2:23:20 and Ireland's two-time European cross-country champion Fionnuala McCormack was fifth with a big PB of 2:23:58.
As was the case in the women's race, the men's contest kicked off conservatively at a 2:57/km speed, headed by pacemakers Alexander Mutiso, Bernard Ngeno and Victor Chumo.
In a thrilling final effort, Cherono unleashed a strong kick to break away from Kacheran and Deso, crossing the line in a season's best of 2:05:12.

"I'm really pleased with my win.
"The conditions today were not ideal to get quick times but I enjoyed the race and I will be back to improve my time," said Cherono, the fourth-place finisher at the Olympics who has now achieved 15 podium finishes from his 18 career marathons.

Deso came through to take second place in 2:05:16, three seconds ahead of Kacheran, who broke his PB by 46 seconds.
Two-time New York City winner Kamworor finished just shy of the podium in fourth, but his 2:05:23 clocking was a 49-second improvement on the PB he set on his marathon debut back in 2012.