Kenya Champion Amos Kirui Promises World Cross Medal In Denmark
28th February 2019 - by Mutwiri Mutuota
Former world Under 20 steeplechase champion says he is ready to conquer the world having stunned a deep field to win the senior 10km men title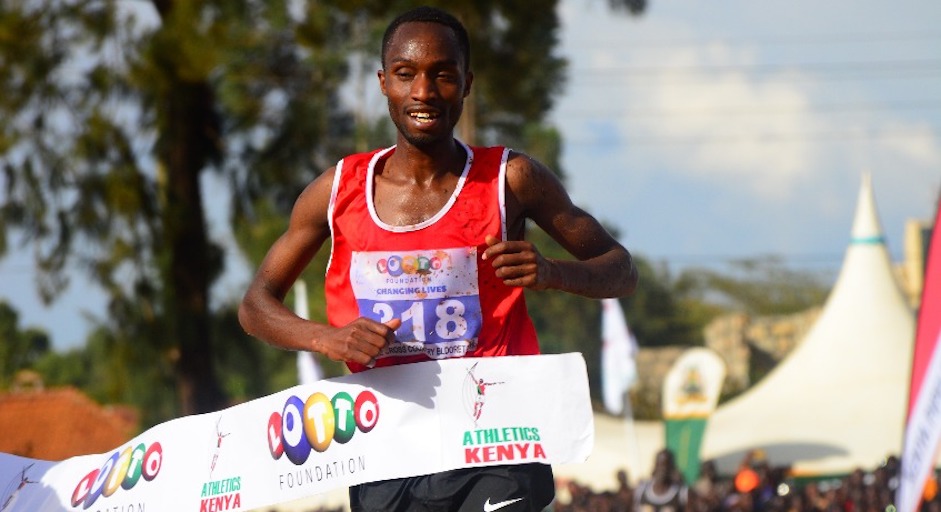 SUMMARY
Japan based Kirui breezed to the tape to floor a deep field of 105 participants during the Athletics Kenya (AK) National Cross Country Championships held at the packed Eldoret Sports Club last Saturday winning the signature race of the afternoon in 29:51
Women 5000m world and Commonwealth titleholder, Hellen Obiri will lead a strong side that has world women steeplechase record holder, Beatrice Chepkoech, Kampala 2017 bronze winner, Lilian Kasait, Deborah Samum, Eva Cherono and Beatrice Mutai in chasing the corresponding senior women's 10km crown in Denmark
The 30 athletes selected by AK for the 2019 World Cross Country Championships are expected to report to the camp in Kigari, Embu on Friday where they will train under head coach David Letting who is already convinced that Kenya will retain the team title in Denmark
NAIROBI, Kenya- Former world Under 20 steeplechase champion, Amos Kirui, has promised to run to the podium after winning the national senior men 10km title to led Kenya's queue to the 43rd edition of IAAF World Cross Country Championships to be held in Aarhus, Denmark on March 30.

Japan based Kirui breezed to the tape to floor a deep field of 105 participants during the Athletics Kenya (AK) National Cross Country Championships held at the packed Eldoret Sports Club last Saturday winning the signature race of the afternoon in 29:51.
Two-time World Cross senior gold medallist, Geoffrey Kipsang Kamworor, Kampala 2017 silver medallist, Leonard Barston, World Under 20 10,000 title holder, Rhonex Kipruto and Punta Umbria 2011 silver winner, Paul Tanui were among the illustrious names that chocked in his slipstream after Kirui timed his finish to perfection.
"I'm happy to have won but now the hardest part begins as we head for the residential training. We have to train hard and prepare well if we want to be victorious in Denmark.
MUST READ: Kirui Shocks Kamworor, Obiri Reigns In Dramatic National XC Trials
"Personally, I will strive to come back home with a medal. We should strategise as a team at the camp. I believe the only way to dominate in Denmark will be to cultivate team work and unity," Kirui the bronze winner in the steeplechase at the 2018 Gold Coast Commonwealth Games remarked.
Kirui revealed he had been training for the World Cross in the last four months with the stunning victory a reward for the efforts.
"I had a game plan ahead of Eldoret and I'm glad it worked out; I stuck with the big shots like Kamworor and Edward Zakayo up to the last lap before I unleashed the finishing kick and sped for the tape.
MUST READ: SportPesa Racing Team Is Back! Varese, Kagondu Set Sights On KNRC Formula 2 Title
"Apart from the course being muddy, the conducive weather inspired my win. I will keep on training hard as I intend to carry this form to the World Cross," he maintained.
Kamworor, who was stunned to fifth in the 10km showdown was given a wildcard entry by AK to chase his hat-trick having brought the Holy Grail of the World Cross home at the Guiyang 2015 and Kampala 2017 editions of the events.
Others who booked a berth to the Denamrk competition in the men's senior include Evans Keitany, Rodgers Kwemoi- the elder brother of new national men Under 20 cross champion Samuel Chebole, Richard Kimunyan and world U-20 10,000m champion Rhonex Kipruto.
MUST READ: Head Strong Kipkurui Inspires 10-Man Gor To Uncork SPL Rivals Tusker
Women 5000m world and Commonwealth titleholder, Hellen Obiri will lead a strong side that has world women steeplechase record holder, Beatrice Chepkoech, Kampala 2017 bronze winner, Lilian Kasait, Deborah Samum, Eva Cherono and Beatrice Mutai in chasing the corresponding senior women's 10km crown in Denmark.
The 30 athletes selected by AK for the 2019 World Cross Country Championships are expected to report to the camp in Kigari, Embu on Friday where they will train under head coach David Letting who is already convinced that Kenya will retain the team title in Denmark.
"This selection consist of young and experienced athletes which is a good blend for any deserved victory in a championship," Letting noted.
MUST READ: Wade Buzzer-Beating Three-Pointer Soars Heat Over Warriors, Lakers Hit Pelicans