Keiffer Moore Winner Confirms Bournemouth Promotion To The English Premier League
4th May 2022 - by Louis Kalinga
They return to the Premier League under manager Scott Parker, who celebrates his second promotion in three campaigns, having taken Fulham up in 2019-20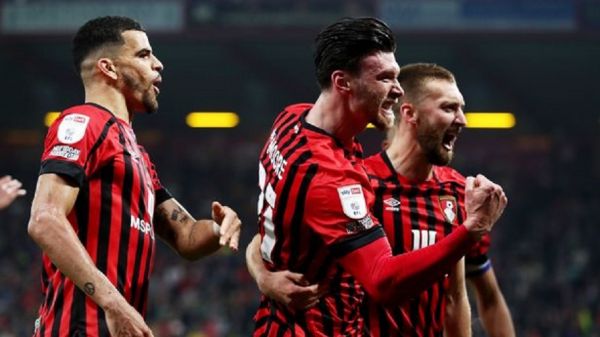 SUMMARY
Bournemouth earned automatic promotion back to the English Premier League after they beat Nottingham Forest 1-0 on Tuesday night at the Vitality Stadium
Keiffer Moore came off the bench to slot home a cool finish in the 83rd minute to propel them to 85 points after 45 games
Bournemouth earned automatic promotion back to the English Premier League after they beat Nottingham Forest 1-0 on Tuesday night at the Vitality Stadium.
Keiffer Moore came off the bench to slot home a cool finish in the 83rd minute to propel them to 85 points after 45 games.
Moore, a January arrival from Cardiff who has managed to make just three substitute appearances because of injury, scored his third goal in three games to seal promotion.
Dominic Solanke also had the chance to see the back of the net but could not capitalize on the golden opportunity as his strike kissed the side of the net.
Solanke has been Bournemouth's best player this season, with the forward scoring 29 goals to finish second in the top scorers list after Fulham's Aleksandar Mitrovic.
They return to the Premier League under manager Scott Parker, who celebrates his second promotion in three campaigns, having taken Fulham up in 2019-20.
Bournemouth join Fulham in promotion to the English top flight and will wait to see which third team will play in the 2022/23 season of the EPL after the Championship playoff.
Forest finish the season with a trip to Hull on Saturday, knowing victory would guarantee them third place, while Bournemouth host Millwall who are hoping to sneak into the play-offs themselves.