Jepchirchir, Korir Fly Kenyan Flag High With New York Marathon Wins
8th November 2021 - by Louis Kalinga
The victory came just six weeks after clinching her Olympic title as Jepchirchir completed her 2021 competitive year in style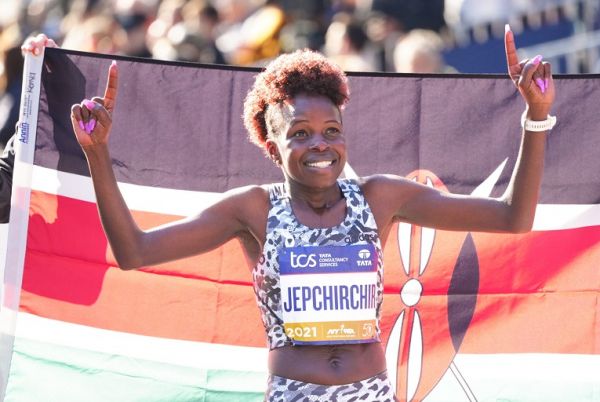 SUMMARY
Peres Jepchirchir marveled her way through the competition and won the New York Marathon title in her debut in 2hrs, 22mins, 39seconds as she led a Kenyan 1-2 finish
On her Marathon debut, Viola Lagat was second in 2hrs, 22mins, 44secs while Ethiopian Ababel Yeshaneh finished the third in 2:22:52
Meanwhile, Albert Korir, second in the 2019 race went one better, winning the men's race in a time of 2hrs, 08mins, 22secs

Peres Jepchirchir marveled her way through the competition and won the New York Marathon title in her debut in 2hrs, 22mins, 39seconds as she led a Kenyan 1-2 finish.

On her Marathon debut, Viola Lagat was second in 2hrs, 22mins, 44secs while Ethiopian Ababel Yeshaneh finished the third in 2:22:52.
The victory came just six weeks after clinching her Olympic title as Jepchirchir completed her 2021 competitive year in style.

Meanwhile, Albert Korir, second in the 2019 race went one better, winning the men's race in a time of 2hrs, 08mins, 22secs.
Meanwhile, in the men's race, Korir, second placed finisher from 2019 had run mostly a solo race for a huge chunk of the final half.
After the lead group had gone through 10km in 30:43, Moroccan Mohamed El Aaraby and Italian Eyob Faniel started to create a gap on the rest of the field.
But then Korir, Kandie and Kibet started to launch their attack, with Korir and Kandie – making his marathon debut – catching the leaders. They all passed 30km in 1:30:50 before Korir began to move away.

Leaving his rivals behind, the gap increased to 27 seconds over the next 10km and Korir celebrated as he reached the finish line in 2:08:22 for a dominant victory.

Running solo now, El Aaraby – who had placed 11th at the Olympics – held on for second place, clocking 2:09:06, while Faniel, 20th in Sapporo, finished third in 2:09:52.

Kibet clocked a PB of 2:11:15 for fourth, as Kandie faded to finish ninth. Nageeye was fifth in 2:11:39 and Bekele, back racing just six weeks after his third place finish in Berlin, was sixth in 2:12:52.