It's Gold Or Nothing- Declares World Steeplechase Record-Holder Chepkoech
27th September 2019 - by Erick Ochieng
The Kericho based athlete is equally stunned by her meteoric rise in the game since her first attempt at the worlds in London two years ago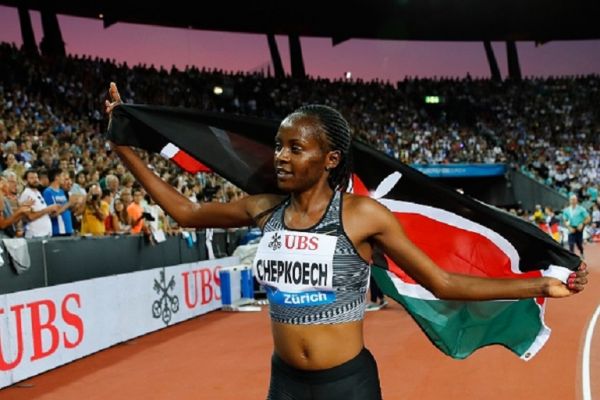 SUMMARY
She claims she doesn't foresee any threat from Ethiopians who are Kenya's perennial rivals at the global stage
Chepkoech revealed the secret to her world beating technique is strict training under head coach Gabriel Kiptum in the rough terrains of Kericho
She admits that what keeps her going are inspirations from world marathon record-holder Eliud Kipchoge
The Diamond League series hat-trick winner will contest the category alongside world U-20 title holder Celliphine Chespol, former world champion Hyvin Kiyeng and African Youth champion Fancy Cherono

NAIROBI, Kenya- World steeplechase record-holder Beatrice Chepkoech is happy that she is gradually realising her dream in athletics.

The Kericho based athlete is equally stunned by her meteoric rise in the game since her first attempt at the worlds in London two years ago.
"I was so inexperienced by then. I felt bad when I lost in London, finishing a distant fourth.
"It was my first time to run for my country, but now I know all the secrets in the race," she told SportPesa News.
READ MORE: World Record-Holder Chepkoech Rules Zurich Diamond League
The 28-year-old is elated to have punched another ticket to the worlds at Doha, Qatar that starts on Friday.
Assured by her amazing current form, Chepkoech believes gold is for her to lose in Qatar.
She claims she doesn't foresee any threat from Ethiopians who are Kenya's perennial rivals at the global stage.
"I used the recent trials at Nyayo Stadium in Nairobi just as a work out for my speed work," she stated.
Chepkoech, who completed a hat-trick of wins at the just concluded Diamond League series, will contest the category alongside world U-20 title holder Celliphine Chepsol, former world champion Hyvin Kiyeng and African Youth champion Fancy Cherono.
"So far we have planned for a podium finish, we know the race will be tough but the medals have to come back home," she declared.
Despite being the world's record-holder, the Continental Cup winner insists she is under no pressure to perform as her fitness has been sharpened by the Diamond League series.
"I'm happy to own the title and this is what has propelled me to be a hundred per cent prepared for the race, I will be out to bring the gold home," she assured.
READ ALSO: Max Verstappen Set To Take Five-Grid Penalty At Russian Grand Prix
Chepkoech reveals the secret to her world beating technique is strict training under head coach Gabriel Kiptum in the rough terrains of Kericho.
She goes for long runs in the morning on Mondays, followed by exercises in the evening. Speed work are on Tuesdays before closing the day with gym sessions in the evening.
Wednesdays are for long runs while Thursdays and Saturdays are for speed work on the track.
The Commonwealth silver medalist says her greatest challenge in the game are injuries which have the potential to mess up career of any budding athlete.
She admits that what keeps her going are inspirations from world marathon record-holder Eliud Kipchoge.
"Whenever I feel like giving up I remember encouragements from Eliud who is also my role model.
MUST READ: Doha: Defending Champ Obiri Faces Stiff Challenge From Dutch Ace Hassan In 5000m
"Through him, I have learnt to be disciplined, humble, friendly and motivational to other competitors.
"I also thank former steeplechase champions Milcah Chemos and Ezekiel Kemboi for setting the pace in the discipline," she underscored.
In the next five years, Chepkoech wants to major in half marathon and road races with an aim to lower their records.
Before she steps on the track in any major competition, Chepkoech whose favourite dish is ugali (posho) and managu (amaranth) says she watches inspiring video clips to calm her nerves.
Her advice to upcoming athletes is to cultivate discipline in training and to be patient if they intent to reap big in the game.