Isolated Olunga Joins Fellow Kenyan Players Efforts To Donate Toward COVID-19 Battle
2nd April 2020 - by Louis Kalinga
The Japan-based striker, through his friends and family in Nairobi donated essentials that included sanitizers and hand wash materials to communities around Lucky Summer, the estate where he grew up as a budding footballer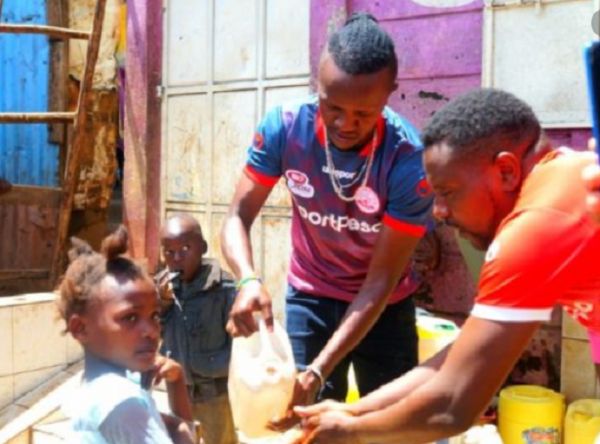 SUMMARY
Harambee Stars forward Michael Olunga has joined the list of Kenyan footballers lending a hand to communities in the midst of the economic difficulties brought about by the spread of the deadly coronavirus
Olunga's lending hand follows in the footsteps of Stars skipper Victor Wanyama, midfielder Johannah Omollo and Francis Kahata who have had similar initiatives in the recent past.
The Simba SC midfielder Kahata was up and about last week donating water to impoverished areas around the Mathare slum
NAIROBI, Kenya- Harambee Stars forward Michael Olunga has joined the list of Kenyan footballers lending a hand to communities in the midst of the economic difficulties brought about by the spread of the deadly coronavirus.
The Japan-based striker, through his friends and family in Nairobi donated essentials that included sanitizers and hand wash materials to communities around Lucky Summer, the estate where he grew up as a budding footballer.
"It was my pleasure to lend a hand towards preventing the spread of COVID -19 by donating sanitizers and hand washes to small business owners, churches, carwash, children homes and a few household across Lucky Summer, BabaDogo, Kasabuni, Kariadudu, Riverside and Glucola Estates,"Olunga posted on his Twitter account.
The Kashiwa Reysol striker has been in self-isolation after the J1 League having been one of the first to be halted due to the spread of the virus.
"We have been given a routine by the club physios, we are following this workout to keep us fit we still don't know when the resumption of the league will be, we have to stay fit. I just want to urge everybody to take this virus seriously and take the steps that World Health Organisation (WHO) has given to combat this deadly virus," Olunga said in a video interview.
Olunga's lending hand follows in the footsteps of Stars skipper Victor Wanyama, midfielder Johannah Omollo and Francis Kahata who have had similar initiatives in the recent past.
The Simba SC midfielder Kahata was up and about last week donating water to impoverished areas around the Mathare slum.
Since the Tanzanian Premier League was put on hold two weeks ago, Kahata donated over 10,000 litres of water to the people in the slum area to aid in combatting the global pandemic.
"It's a serious virus and we have to all take precaution to avoid the spread. As we do this, we must remember the ones who cannot afford to fo it on their own and that's why I saw the importance of coming here to make this donation," the former Gor Mahia FC star stated.