I Believe In This Dream! Captain Karauri Declares As SportPesa Announce Murang'a Seal Sponsorship
1st October 2021 - by Louis Kalinga
M-Seal is an upcoming football and sports academy based in Murang'a County and the only football club in Kenya with its own private pitch, the St.Sebastian Park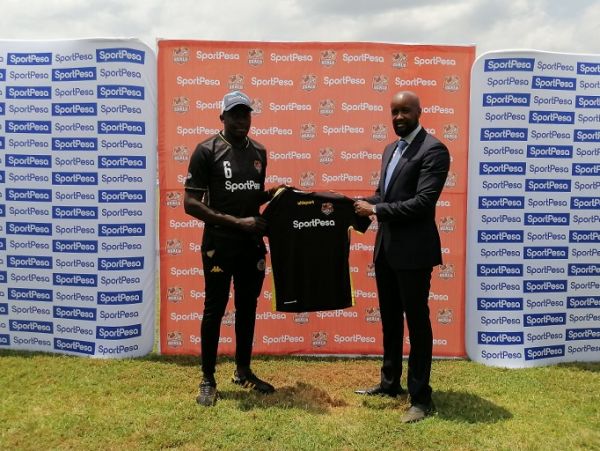 SUMMARY
On Friday,

SportPesa

announced that

the

y are the

official sponsor of Murang'a Sports Excellence Academy Limited (M-Seal) football club.
The gaming company is the new shirt sponsor for the team, which plays in the second-tier league – National Super League
Speaking during the unveil event, SportPeasa CEO Captain Ronald Karauri said the company had made the decision to come on board to support the team as a way of promoting football and sports in the country

On Friday, SportPesa announced that they are the official sponsor of Murang'a Sports Excellence Academy Limited (M-Seal) football club.
The gaming company is the new shirt sponsor for the team, which plays in the second-tier league – National Super League.
M-Seal is an upcoming football and sports academy based in Murang'a County and the only football club in Kenya with its own private pitch, the St.Sebastian Park.
The three-year partnership totalling Ksh26 million will include supporting the football academy which is set to become a major sports excellence training institution.
Speaking during the unveil event, SportPeasa CEO Captain Ronald Karauri said the company had made the decision to come on board to support the team as a way of promoting football and sports in the country.
"The sight of this pitch has made me very happy. It is impressive to see that in the middle of nowhere there can be a pitch of this standard.
"Just the few minutes that I have been here and listening to the players and the staff, I have bought into this dream fully," Captain Ronald Karauri stated.
Murang'a Seal, formed in 2016, has risen up the ranks from the regional league to division one until finally being promoted to the NSL.
This is their second season in the NSL and the team believes that this sponsorship will go a long way in achieving their dream of top flight football.
"The biggest issue we have in Kenyan football is the structure and I believe that with SportPesa we can make this dream a reality," Captain Karauri concluded.
"I believe that this team has what it takes to not only make it to the Kenya Premier League but to become one of the best teams in Kenya.
"We will have to rethink our strategy and increase the effort and dedication to this team, so everyone can feel as though they are a part of a professional football team," he concluded.
SportPesa has been actively involved in the development on sports in the country, mainly football for many years and this shows their continual support for the same.
"I want to thank the sponsors for coming and I would like to welcome you and ask you to feel at home.
"God has made all this possible and I can assure you all that this team will give it our best, we will not disappoint you," Captain Peter Mwaura stated.
The ceremony concluded with the Chief Executive Officer putting pen to paper to officially seal the deal and was presented a jersey to unveil the partnership.
The NSL team has set its eyes on playing in the top tier and as part of its efforts towards that goal, Murang'a Seal will on Sunday October 3 host record Kenya Premier League winners Gor Mahia for a friendly match.
The game will be played at the St. Sebastien Park at 3pm.