Haaland Brace Gets Champions Man City Off To Winning Start At West Ham
8th August 2022 - by Louis Kalinga
The 22-year old opened his account for Man City from the penalty spot in the 36th minute and completed his brace in the 65th after a perfect Kevin De Bruyne pass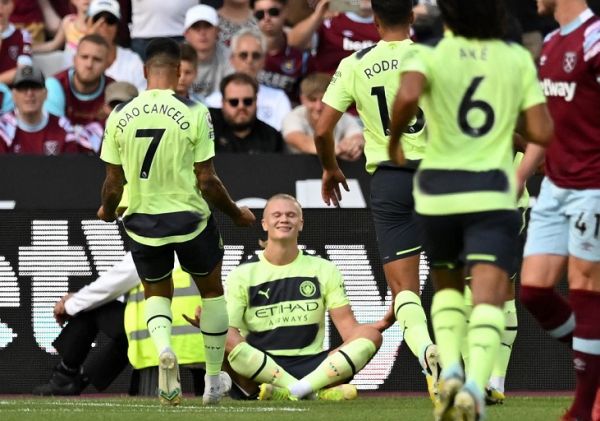 SUMMARY
Erling Braut Haaland marked his English Premier League debut with a brace as Manchester City beat West Ham 2-0 in their opening game of the 2021/22 season
The champions have wasted no time in stating their intention to defend their title after they put on a calm and collected show away at West Ham
Erling Braut Haaland marked his English Premier League debut with a brace as Manchester City beat West Ham 2-0 in their opening game of the 2021/22 season.
The 22-year old opened his account for Man City from the penalty spot in the 36th minute and completed his brace in the 65th after a perfect Kevin De Bruyne pass.
The champions have wasted no time in stating their intention to defend their title after they put on a calm and collected show away at West Ham.
"It was good. It was a good start there is nothing much to say other than that and it was 2-0. Good to get some minutes in the legs early in the season and we have to keep going," the Norwegian forward stated after the game.
For the first half-hour, he was eerily quiet, with his biggest contribution being his flying attempt to reach a cross, which ended up injuring West Ham keeper Lukas Fabianski.
Nathan Ake had been favoured to John Stones to partner Ruben Dias at centre-back, with Kyle Walker and Joao Cancelo taking their normal places at full-back for City.
Despite the Hammers throwing on new signing Gianluca Scamacca, the visitors maintained their clean sheet.
After only one game, Pep Guardiola's side are in fourth place on the table with only Arsenal, Bournemouth and Tottenham Hotspur above them.