Geoffrey Kamworor Breaks World Half Marathon Record In Copenhagen
15th September 2019 - by Louis Kalinga
The 26-year-old Kenyan returned to the Danish capital, the scene of his first of three world half-marathon titles, in a bid to improve on the world record of 58:18 set in Valencia last year by Abraham Kiptum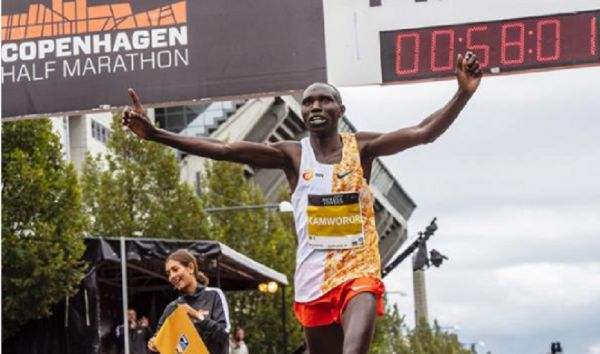 SUMMARY
Kenya's Geoffrey Kamworor took a staggering 17 seconds off the world record at the Copenhagen Half Marathon on Sunday (15), winning the IAAF Gold Label road race in 58:01*
He was part of a large group through the first five kilometres, covered in 13:53, just outside world record pace, but he upped the tempo and reached 10 kilometres in 27:34.
Kamworor covered the next five-kilometre segment in a swift 13:31, reaching 15 kilometres in 41:05, the fastest time ever recorded for the distance and 11 seconds inside sub-58-minute pace
COPENHAGEN, Denmark- Kenya's Geoffrey Kamworor took a staggering 17 seconds off the world record at the Copenhagen Half Marathon on Sunday (15), winning the IAAF Gold Label road race in 58:01*.
The 26-year-old Kenyan returned to the Danish capital, the scene of his first of three world half-marathon titles, in a bid to improve on the world record of 58:18 set in Valencia last year by Abraham Kiptum.
He was part of a large group through the first five kilometres, covered in 13:53, just outside world record pace, but he upped the tempo and reached 10 kilometres in 27:34.
Kamworor covered the next five-kilometre segment in a swift 13:31, reaching 15 kilometres in 41:05, the fastest time ever recorded for the distance and 11 seconds inside sub-58-minute pace.
The clock ticked over to 58 minutes just before Kamworor reached the finish line and moments later his winning mark was confirmed at 58:01.
RECOMMENDED READ: National 400m Champ Moraa Wants To Honour Late Mother With Gold From Doha
Five other men finished inside 60 minutes with Bernard Kipkorir taking second place in 59:16 from Ethiopia's Berehanu Wendemu Tsegu (59:22) and Edwin Kiprop Kiptoo (59:27).
Although no records were broken in the women's race, it was a closer contest.
After the opening 5km was covered in 15:48 and the first 10km in 31:15, three women – Birhane Dibaba, Evaline Chirchir and Dorcas Tuitoek – were still together at 15km, reached in 46:55.
But Dibaba, the 2018 Tokyo Marathon champion, made a key move soon after and broke free from Chirchir and Tuitoek. She crossed the line in 1:05:57, taking almost two minutes off her previous PB, and won by 25 seconds. It was the second-fastest winning time in Copenhagen, following Sifan Hassan's course record of 1:05:15 last year.
Chirchir held on for second place in 1:06:22 with Tuitoek finishing third in 1:06:36.
-Material used to compile this report from www.iaaf.org