Football Fans Gitahi, Sumaili, Kirui Split KSh26.4m SportPesa Midweek Jackpot
25th February 2019 - by Mutwiri Mutuota
Lucky trio receive KSh8,819,633 for correctly predicting 13 games offered last week on the leading gaming platform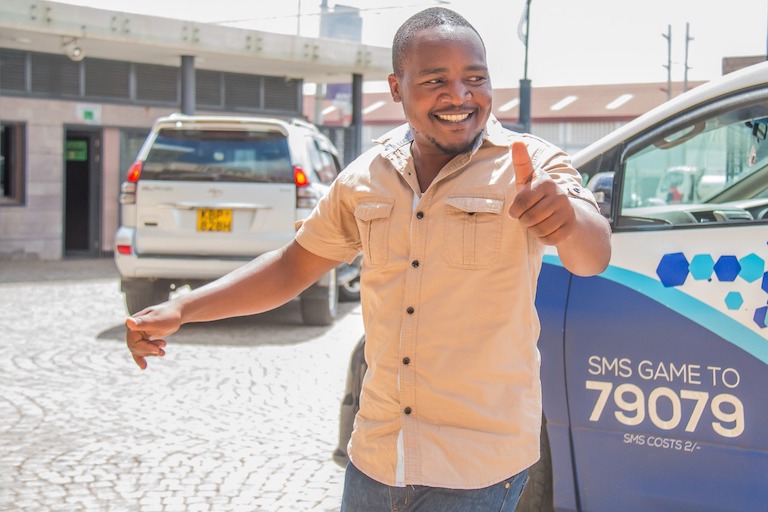 SUMMARY
Mechanic Jackson Gitahi from Murang'a County, farmer Nicholas Kirui from Kuresoi, Molo and Daniel Sumaili from Kitui Central received their cheques in Nairobi after taking an equal share of last week's KSh26,458,899 Mid Week Jackpot for correctly predicting the outcome of all 13 games on offer
Beaten Carabao Cup finalists, Chelsea FC are his team of choice overseas alongside fellow Mid Week Jackpot winner, Gitahi, who termed the payout as just reward for the faith he had on SportPesa changing his life
For 41 year-old tea farmer Kirui, scooping the Mid Week Jackpot came only six months after he joined the platform after being inspired by the story of the SportPesa Jackpot winner, Cosmas Korir, who won over KSh208m last September
NAIROBI, Kenya- Three football fans and players on the SportPesa gaming platform cashed in on their passion for the game on Monday morning when they received KSh8,819,633 each for splitting last week's Midweek Jackpot.
Mechanic Jackson Gitahi from Murang'a County, farmer Nicholas Kirui from Kuresoi, Molo and Daniel Sumaili from Kitui Central received their cheques in Nairobi after taking an equal share of last week's KSh26,458,899 Midweek Jackpot for correctly predicting the outcome of all 13 games on offer.
Speaking after receiving his cheque in the company of his wife of nine years, Lilian Daniel, the elated Sumaili an ardent supporter of SportPesa Premier League side, Mathare United FC, revealed his was still coming to terms with his windfall.
MUST READ: SportPesa Mega Jackpot Winner Korir To Launch Mashinani Cup
"Before I went to sleep, I had prayed to God to win since I had a feeling I had made the correct choices. I was at home in Kitui with my ailing mother where we were discussing on what to do next.
"When I saw the text message at 1:19am (+3GMT) I could not sleep any more. After a while, I went to my mothers' room and told her our troubles were over," the 33 year-old father of a daughter narrated.
SportPesa Mid Week Jackpot winner Nicholas Kirui poses when he came to collect his KSh8,819,633 cheque on Monday, February 25, 2018. PHOTO/SPN
Sumaili's win came at the most opportune time having lost his job and unsuccessfully tried his hand in farming.
Newest millionaire
"I decided to start playing on the SportPesa platform online when I heard people were winning big. I prayed hard this time and my wife was in Nairobi when it happened and we can now sit down and see how to improve our lives," the newest millionaire who has been gaming on the platform since 2015 added.
His wish is to see Mathare win the SPL title and a second league crown following their success in 2008.
MUST READ: Mathare Coach Kimanzi Grateful After Scooping Third SPL Monthly Award
"I love Mathare because they are disciplined and their standard of football under head coach Francis Kimanzi is high compared to other teams.
"I believe with motivation and support for the players, they cane win the league," Sumaili who takes every opportunity he has to watch the Slum Boys play at the Kenyatta Stadium, Machakos, remarked.
Beaten Carabao Cup finalists, Chelsea FC are his team of choice overseas alongside fellow Mid Week Jackpot winner, Gitahi, who termed the payout as just reward for the faith he had on SportPesa changing his life.
"I'm very happy because my biggest win before this was KSh2,800 for a bet of KSh50. I never gave up and today (Monday) we are here with my wife to celebrate this.
"I urge others to play regularly on this platform and look for the best odds in the market. I will now use this money to expand my garage," he gushed.
MUST READ: Kenyan Rugby Mourns Passing Of Impala's Richard Sindindi Otieno
Just like Ismaili, he cannot comprehend how Chelsea's season of promise has unravelled under Italian manager, Maurizio Sarri, with the 3-4 defeat to Manchester City on Sunday night amid farcical scenes when keeper Kepa Arrizabalaga refused to come off when substituted in the closing stages of extra time.
SportPesa Mid Week Jackpot winner Jackson Gitahi gives the thumbs up when he came to collect his KSh8,819,633 cheque on Monday, February 25, 2018. PHOTO/SPN
"The problem is with the management but I have been a fan of Chelsea since the days of (Didier) Drogba and I will remain with the team," Gitahi, a father of two daughters, stated.
For 41 year-old tea farmer Kirui, scooping the Midweek Jackpot came only six months after he joined the platform after being inspired by the story of the SportPesa Jackpot winner, Cosmas Korir, who won over KSh208m last September.
MUST READ: Oktay Content With Gor Mahia's CAF Confed Cup Home Performance
"He comes from Bomet which is not far from where I came from and I said to myself, if he can make it, so can I and I started gaming on SMS. With this money, I can now construct a house to live in and start farming new crops," the Manchester United FC supporter told.
The winning Mid Week Jackpot combination was: 2,X,X,2,1,2,1,1,1,X,2,X,2
12 Correct Predictions – KSh 54,156 each
11 Correct Predictions – KSh 5,114 each
10 Correct Predictions - KSh 1,356 each
MILLIONAIRE'S PLAYGROUND: SportPesa Mid Week Jackpot winners (L to R) Jackson Gitahi, Nicholas Kirui and Daniel Sumaili pose with their cheques after receiving KSh8,819,633 each on Monday, February 25, 2018. PHOTO/SPN