Chelsea Have One Foot In League Cup Final After First Leg Semi Win Against Tottenham
6th January 2022 - by Louis Kalinga
Thomas Tuchel warned Chelsea their semi-final is not over yet despite being within touching distance of a first League Cup final appearance since 2019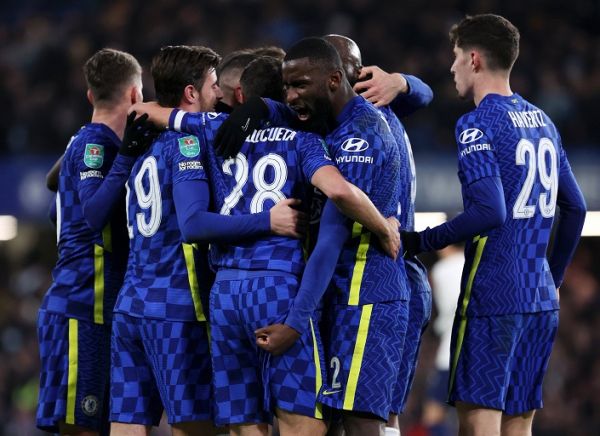 SUMMARY
Chelsea put one foot in the semi-final of the League Cup after a 2-0 victory against Tottenham at Stamford Bridge on Wednesday
Kai Havertz put Chelsea ahead with a deflected strike before Ben Davies's farcical own goal increased their lead before half-time
Although Chelsea were unable to completely kill off their London rivals, they head to Tottenham for the second leg on January 12 as firm favourites to reach the final against Liverpool or Arsenal

Chelsea put one foot in the semi-final of the League Cup after a 2-0 victory against Tottenham at Stamford Bridge on Wednesday.
Kai Havertz put Chelsea ahead with a deflected strike before Ben Davies's farcical own goal increased their lead before half-time.

Thomas Tuchel warned Chelsea their semi-final is not over yet despite being within touching distance of a first League Cup final appearance since 2019.
Although Chelsea were unable to completely kill off their London rivals, they head to Tottenham for the second leg on January 12 as firm favourites to reach the final against Liverpool or Arsenal.

Liverpool's semi-final first leg, scheduled for Thursday, has been postponed until next week after a significant coronavirus outbreak among Jurgen Klopp's squad.

Chelsea's victory was their first in three games, building on their spirited fightback from two goals down to draw 2-2 against Liverpool on Sunday.
"It seems like a deserved win, an excellent result because it reflects the game. We could have scored more but it is hard to score against Tottenham.
"We did create a lot, some huge chances. The up-side is everybody knows it is going to be a tough match in the second leg. It's not decided yet," Tuchel said.
With Romelu Lukaku back in the fold, albeit once again looking far from his best, Tuchel will hope he has navigated a storm that threatened to derail Chelsea's season.
Lukaku, Chelsea's club record £97.5 million ($132 million) signing from Inter Milan last year, was dropped for the Liverpool game after he gave an interview that featured criticism of the way he was being used by Tuchel.
Ironically, Lukaku's return came against Tottenham boss Antonio Conte, who got the best out of him during their Serie A-winning spell together at Inter.

Conte was back at Chelsea for the first time since being sacked in 2018 despite winning the Premier League and FA Cup in his two-year reign.

The Italian claimed earlier this season that Chelsea had yet to work out how to get the best out of Lukaku, but he has plenty of work to do with his own team on the evidence of Tottenham's spluttering display.