Back To Back Wins For Red Bull As Max Verstappen Wins First Ever Miami GP
9th May 2022 - by Louis Kalinga
Verstappen's win comes after he finished first a fortnight ago in Italy at the Emiliano Romagna Grand Prix, cutting the lead between him and championship leader Leclerc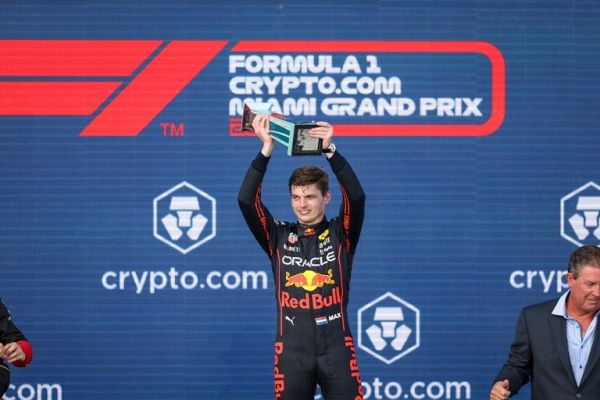 SUMMARY
Formula One champion Max Verstappen made it back to back victories as he won the inaugural edition of the Miami Grand Prix on Sunday
The Red Bull driver fought hard to keep off the challenge of Ferrari's Charles Leclerc who finished second, ahead of his teammate Carlos Sainz in third
A first race in Miami had brought out the A-listers onto the grid, among them the David Beckham, the Williams sisters and Pharrell Williams
Formula One champion Max Verstappen made it back to back victories as he won the inaugural edition of the Miami Grand Prix on Sunday.
The Red Bull driver fought hard to keep off the challenge of Ferrari's Charles Leclerc who finished second, ahead of his teammate Carlos Sainz in third.
The other Red Bull of Sergio Perez came in fourth, with both Mercedes led by George Russell finished in fifth and sixth respectively.
A first race in Miami had brought out the A-listers onto the grid, among them the David Beckham, the Williams sisters and Pharrell Williams.

Verstappen's win comes after he finished first a fortnight ago in Italy at the Emiliano Romagna Grand Prix, cutting the lead between him and championship leader Leclerc.
Leclerc leads the standings with 104 points, 19 ahead of the Dutchman while Perez is in third with 66.
Russell's 59 points leave him in fourth as Sainz rounds up the top five with 53.
An error in qualifying had left Verstappen third for the start in the heat of Miami but he eased past a slow-starting Carlos Sainz to move into second as the race began.
Leclerc had pulled clear in the race lead but his Dutch rival increasingly closed the gap and had passed both Ferraris for the lead within 10 laps.
The Spanish Grand Prix is up next on the calendar, which is set to be held at the Circuit de Barcelona-Catalunya on May 22.