Ashleigh Barty Cruises To 3rd Grand Slam Victory With Australian Open Win
30th January 2022 - by Louis Kalinga
The world number one was 5-1 down in the second set against fearless American Danielle Collins but came storming back to win on a tiebreak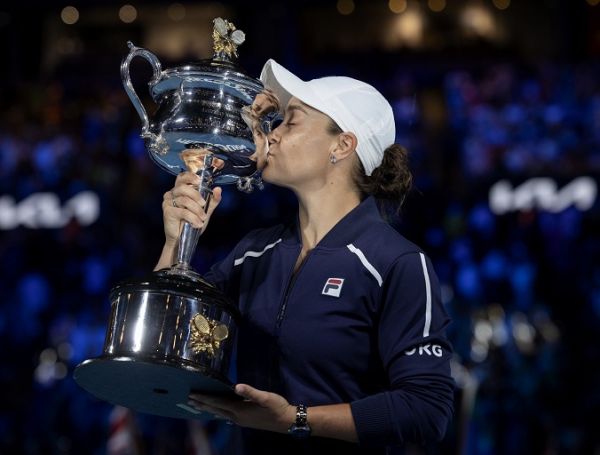 SUMMARY
World number one Ashleigh Barty beat American Danielle Collins 6-3, 7-6 (7/2) on Saturday to win the Australian Open and send her home country into delirium
An imperious Barty said it was a dream come true after on Saturday becoming the first Australian to win her home Grand Slam in 44 years, but the memories made along the way were more important than the trophy
It was a third Slam title for the 25-year-old after her breakthrough French Open success in 2019 and Wimbledon last year, joining Serena Williams as the only active players to win majors on all three surfaces

World number one Ashleigh Barty beat American Danielle Collins 6-3, 7-6 (7/2) on Saturday to win the Australian Open and send her home country into delirium.
An imperious Barty said it was a dream come true after on Saturday becoming the first Australian to win her home Grand Slam in 44 years, but the memories made along the way were more important than the trophy.

The world number one was 5-1 down in the second set against fearless American Danielle Collins but came storming back to win on a tiebreak and sweep past the 27th seed 6-3, 7-6 (7/2) and be crowned Australian Open champion.

It was a third Slam title for the 25-year-old after her breakthrough French Open success in 2019 and Wimbledon last year, joining Serena Williams as the only active players to win majors on all three surfaces.

"It's a dream come true for me and I'm just so proud to be an Aussie," said Barty.

"It's incredible, time and time again we've come so close and now to have my hands on such a beautiful trophy after an exceptional fortnight is just unbelievable.

"But for me it's about the memories more than the trophies, it's the memories we make from the whole journey," she added.

O'Neil won the title in 1978 and told reporters before the match: "I'm probably her biggest fan. I'd be happy to hand it over to her because she's so deserving of it."
There were fears Barty might be overwhelmed by the weight of expectation, but the Australian has dealt with intense pressure before, none more so than at Wimbledon last year.
That was followed by a wonderful moment for Barty as she received the winner's Daphne Akhurst Memorial Cup from seven-time Grand Slam champion and fellow indigenous Australian Evonne Goolagong-Cawley, who won the last of her four Australian Opens in 1977.