Alcaraz, Djokovic relish US Open collision course
25th August 2023 - by Stephen Ochieng
If the tournament follows the seedings, Djokovic and Alcaraz will meet in the 2023 final.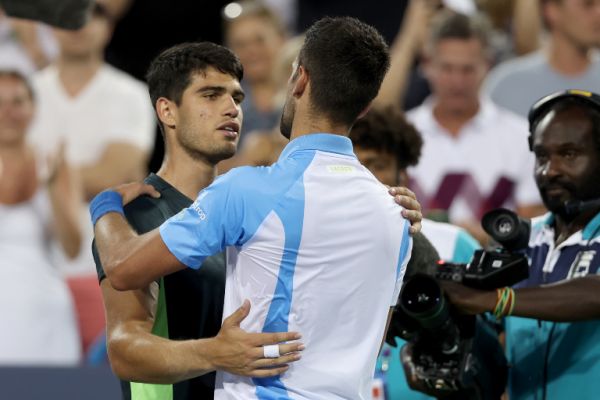 SUMMARY
The two players have met only four times, winning two apiece.
Alcaraz beat Djokovic in a five set Wimbledon thriller back in July.
Djokovic missed the US Open last year owing to his Covid-19 vaccination stance.
Novak Djokovic makes a long-awaited return to the US Open next week looking to reclaim the title and world number one ranking from defending champion Carlos Alcaraz.
The 36-year-old Serbian superstar was barred from entry to the United States for much of the past two years after his refusal to comply with a Covid-19 vaccination mandate.
The 23-time Grand Slam singles title winner could only watch from afar last year as Spanish star Alcaraz was crowned as the new King of New York with his maiden triumph at a tennis major.
Since that breakthrough victory, Alcaraz and Djokovic have developed the sport's most compelling new rivalry, pushing each other to the limit in an epic five-set Wimbledon final last month that ended with Alcaraz triumphing 1-6, 7-6 (8/6), 6-1, 3-6, 6-4.
The two men produced another pulsating thriller in the final of the Cincinnati Open last weekend, with Djokovic saving a match point before digging out a 5-7, 7-6 (9/7), 7-6 (7/4) victory in just under four hours.
For Djokovic, Alcaraz's performances are confirmation of his belief that the 20-year-old Spaniard is the real deal, the player best positioned to succeed him as the dominant force in men's tennis.
The Serb said Alcaraz's knack of rising to the occasion in the most demanding of circumstances reminds him of his gruelling battles with Rafael Nadal, who will miss the US Open with a hip injury.
"Each point, the feeling that I have on the court reminds me a little bit when I was facing Nadal when we were at our prime of our careers," Djokovic said.
"Each point is a hustle. Each point is a battle. You feel like you're not going to get maybe in total five free points in the entire match. You've got to basically earn every single point, every single shot, regardless of the conditions."
Djokovic said Alcaraz's development this season, particularly his poise under pressure, is even more impressive given his youth.
"It doesn't surprise me anymore," Djokovic said. "It was surprising maybe at the end of last year or beginning of this year, what he was doing, the way he won big matches, big tournaments.
So impressive -- coming out in important moments, going for it, brave.
"You just have to put your hats down to a guy like that, that plays so maturely, handles the pressure so well for a 20-year-old.
"We cannot forget how young he is. That's something that is so impressive about him."
If the tournament follows the seedings, Djokovic and Alcaraz will meet for only the fifth time in what would be a blockbuster final in the last Grand Slam of 2023.
They have split the four previous meetings, winning two apiece.
Alcaraz defeated Djokovic in an attritional three-set semi-final on clay in Madrid last year, while Djokovic prevailed in a four-setter at Roland Garros this year.
"All of the matches we played against each other went the distance," Djokovic said.
"It just keeps getting better for the fans. For us, I don't know if we are enjoying it so much.
"It's definitely a challenge that we both need to embrace and accept because that's what's required from both of us in order to win big titles."
Alcaraz meanwhile is flattered by Djokovic's comparison of him to Nadal, the 22-time Grand Slam singles champion.
"It's great that he knows that every time he's going to play against me, it reminds him playing against Rafa or against the best ones because that means we are in a good path," Alcaraz said.
Djokovic is almost certain to reclaim his world number one ranking in New York, needing only a victory over first round opponent Alexandre Muller to be assured of regaining top spot regardless of how Alcaraz performs.
Alcaraz's route to a potential final showdown with Djokovic is arguably trickier, with 2021 champion Daniil Medvedev and Italy's Jannik Sinner - who took Alcaraz to five sets in last year's quarter-finals - both in his side of the draw.
© Agence France-Presse