AFCON: Ghana Sent Home By Debutants Comoros As Morocco, Gabon Through To Knockout Stage
19th January 2022 - by Louis Kalinga
The Black Stars failed to win even one game at the finals and finished bottom of Group C with 1 point to their name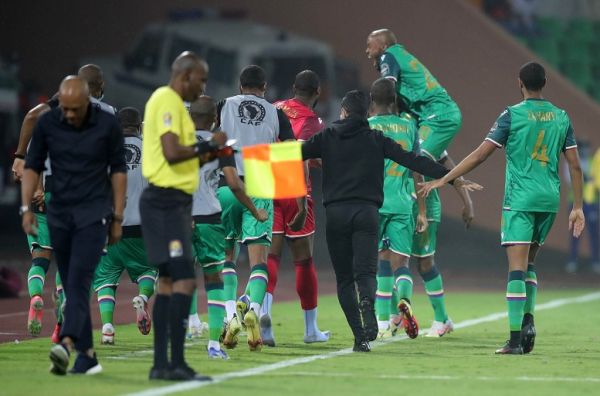 SUMMARY
It was a sad affair for Ghana as they were knocked out of the 2022 Africa Cup of Nations after losing 3-2 to debutants Comoros on Tuesday
The four-time champions were dealt a heavy blow when captain Andre Ayew was sent off for a foul on Ben Boina as he sought to tap in a rebound after Kamaldeen's shot
Already eliminated Zimbabwe upset Guinea with a 2-1 win n Yaounde, although Guinea will still advance to the last 16 as runners-up in Group B

It was a sad affair for Ghana as they were knocked out of the 2022 Africa Cup of Nations after losing 3-2 to debutants Comoros on Tuesday.
The Black Stars failed to win even one game at the finals and finished bottom of Group C with 1 point to their name.
The four-time champions were dealt a heavy blow when captain Andre Ayew was sent off for a foul on Ben Boina as he sought to tap in a rebound after Kamaldeen's shot.
Plenty of controversy has come of the decision to send Ayew off, with majority of the football world determining that it was an unfair sending off but it's too little too late.
Morocco and Gabon finished in first and second positions, respectively, following their 2-2 draw in the other group game on Tuesday.
Richmond Boakye-Yiadom and Alexander Djiku were on target for the Black Stars but an Ahmed Mogni double and an El Fardou effort won all three points for the Coelacanths in the Group C.
It is the first time Ghana have failed to win at least one group stage match having made 22 past visits to the finals.
Already eliminated Zimbabwe upset Guinea with a 2-1 win n Yaounde, although Guinea will still advance to the last 16 as runners-up in Group B.
Guinea's captain, the Liverpool midfielder Naby Keïta, will miss the knockout tie after he was shown a second yellow card of the group stage by Salima Mukansanga, the first woman to officiate a game at the tournament.

The Zimbabwe captain, Knowledge Musona, and Kudakwashe Mahachiscored in the first half to earn their side a farewell win after losing their opening two matches as they finished last in the group.