'My Best Race Ever', Bottas Says After Scintillating Turkish GP Victory
11th October 2021 - by Louis Kalinga
The second place finish for Verstappen saw him retake the F1 Championship lead with 262.5 points, ahead of Lewis Hamilton's 256.5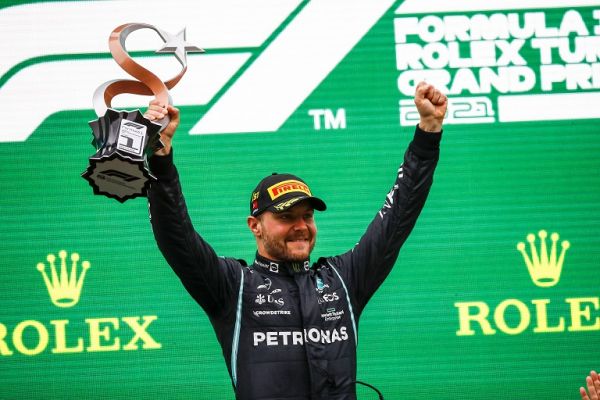 SUMMARY
Valtteri Bottas admitted it was probably his 'best race ever' after he ended a year-long wait as he cruised to victory in the Turkish GP on Sunday.
Bottas began on pole and led the race all they way until the 38th lap when he went in to pit but reclaimed the lead and took charge all the way to the chequered flag
RedBull had a splendid outing as well, claiming a double podium with Max Verstappen finishing second ahead of his teammate Sergio Perez in third

Valtteri Bottas admitted it was probably his 'best race ever' after he ended a year-long wait as he cruised to victory in the Turkish GP on Sunday.
Bottas began on pole and led the race all they way until the 38th lap when he went in to pit but reclaimed the lead and took charge all the way to the chequered flag.
In addition to the 25 points for winning the race, the Mercedes driver also received a bonus point for the fastest lap of the race.
"It's been a while, but feels good. I think from my side probably one of the best races I've had ever.
"Apart from that one little slide, everything was under control," Bottas said after the race.

RedBull had a splendid outing as well, claiming a double podium with Max Verstappen finishing second ahead of his teammate Sergio Perez in third.
The second place finish for Verstappen saw him retake the F1 Championship lead with 262.5 points, ahead of Lewis Hamilton's 256.5.
Seven-time champion Hamilton was infuriated by a failed pit strategy by Mercedes that saw him lose two positions to eventually finish the race in fifth place.
Hamilton was quickest in qualifying but had to start the race in 11th because of a grid penalty incurred for changing his engine.
"Why did we give up that place? We shouldn't have come in, man. Massive (tyre) graining. I told you," the Brit was heard complaining on the radio after the stop.
Carlos Sainz of Ferrari was awarded the driver of the day after he gained 11 places to finish in eighth and would have probably done better if not for a eight-second pit stop.
The battle for the championship continues to heat up and the next race is at the Circuit of the Americas track in the United States on October 24.