Wounded Shujaa Seek To Roar In Cape Town After Dubai 7s Flop
Dec 02 - by SPN Correspondent for SportPesa News
Kenya second from bottom following opening round of 2018/19 HSBC Series after collecting only a point in finishing 15th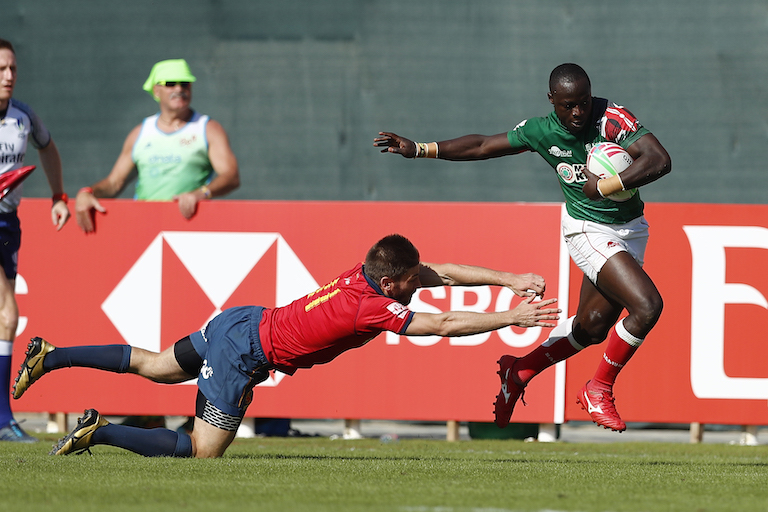 New head coach Paul Murunga and his charges left the opening round in Dubai with only a point after finishing 15th out of the 16 nations that took part
New Zealand were crowned Main Cup winners after sinking USA 21-5 to give the All Blacks their first title here since 2009
They closed off day one with a 43-12 loss to Fiji a performance that saw them finish last in Pool B
NAIROBI, Kenya- Wounded national side Shujaa will seek better fortunes at next weekend's Cape Town 7s when they take on England, Fiji and France in Pool C of the second leg of the 2018/19 HSBC World Sevens Series.
New head coach Paul Murunga and his charges left the opening round in Dubai with only a point after finishing 15th out of the 16 nations that took part.
New Zealand were crowned Main Cup winners after sinking USA 21-5 to give the All Blacks their first title here since 2009.
Shujaa group rivals in South Africa, England left it to the final play of the bronze final to avenge their day one loss to Australia, this time by the slenderest of margins of 15-14, and claim the medal for the third year in a row.
South Africa and Fiji, the top two in the 2018 series, played out another classic encounter but this time with fifth place at stake.
The two went blow-for-blow before Muller du Plessis' hat-trick try, and Dewald Human's boot, gave South Africa a sniff of a 19-14 victory.
However, Waisea Nacuqu had other ideas and his breakaway try levelled the scores, only for Vilimoni Botitu to step up and miss the straightforward conversion to mean extra-time would decide the winner.
Held firm
South Africa's defence initially held firm but Aminiasi Tuimaba, playing in his first tournament, confidently chipped ahead and collected his own kick to score the winning try.
Samoa left Dubai with the Challenge Trophy in their luggage after showing great resilience and focus in a hard-fought 33-24 defeat of France.
Shujaa under former Homeboyz RFC boss Murunga, saw their day one kicked off with a 35-14 loss to Scotland followed by a narrow 17-21 loss to France.
They closed off day one with a 43-12 loss to Fiji a performance that saw them finish last in Pool B.
The quarterfinal pairings saw them book a date with Spain in the second Dubai7s Challenge quarterfinal.
The end result was 26-19 in favour of Spain that saw Shujaa drop to the 13th Semi final against Japan and the score line replicated that of Spain but now in favour of Japan.
The Cape Town 7s will run on December 8 and 9 at the Cape Town Stadium with Kenya second from bottom ahead of Zimbabwe on points difference.
-Material from www.kru.co.ke and www.worldrugby.com used to compile this report