Uganda World Cross Star Cheptengei Challenges President Museveni On Twitter
Apr 03 - by Mutwiri Mutuota for SportPesa News
Double Commonwealth Games champion is using his profile after his historic senior 10km victory in Denmark to press for the speedy conclusion of the Kiprotich High Altitude Training Centre in Teryet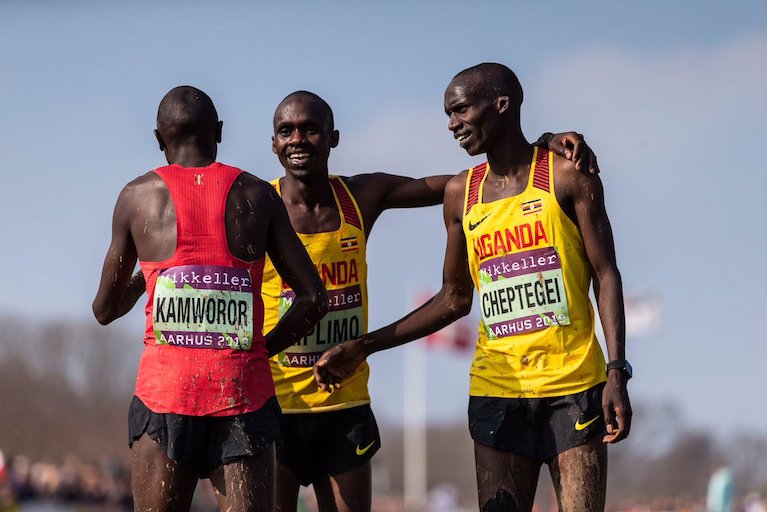 Double Commonwealth Games track champion, Cheptengei added the World Cross crown when he deposed two-time winner and Global Sports Camp training partner, Kenya's Geoffrey Kamworor last Saturday in Denmark
As if on cue, the government handed over the site to constructors with works expected to start on Thursday after delays in State funding for the project that is meant to place Uganda in a better position to rival their neighbours Kenya and Ethiopia distance running domination in international athletics
It sits on an altitude of 2,600m above sea level that is ideal for training distance runners and will have a jogging track, AstroTurf field with six-lane running tartan track, hostel and catering facilities among other amenities
NAIROBI, Kenya- Using his status as the hottest personality in his country at the moment, Aarhus 2019 World Cross senior men champion, Joshua Cheptengei, has challenged Uganda President, Yoweri Museveni to fulfill his promise and complete the Kiprotich National High Altitude Training Centre in Teryet, Kapchorwa District.
Double Commonwealth Games track champion, Cheptengei added the World Cross crown when he deposed two-time winner and Global Sports Camp training partner, Kenya's Geoffrey Kamworor last Saturday in Denmark.
Already a hero to his people, Cheptengei is using his profile for the speedy conclusion of the project that was announced by President Museveni in 2013 when London 2012 marathon champion, Stephen Kiprotich, added the world title in Moscow, Russia.
READ ALSO: For My Bro: Westbrook Dedicates Historic Triple Double To Slain Nipsey Hussle
It was named in Kiprotich's honour but six years later, the facility located in northern Uganda where that serves as the country's cradle of distance running talent is yet to open its gates to the up to 72 athletes it is designed to hold.
"Would like to thank Kaguta Museveni upon the initiative of Teryet High Altitude Centre. However the speed at which it's constructed is slow, May not yield it's expectations. I do request government to quicken it's process.
"Lastly, I ask government to fulfill pledges to excelling athletes," Kiprotich who is basking in the glow of his historic victory in Aarhus where he led Jacob Kiplimo- the Kampala 2017 men Under 20 World Cross champion- to the Uganda 1-2 posted on his Twitter handle.
READ ALSO: Dope At Your Own Risk: Marathon Majors, AIU Roll Out Programme To Nab Cheats
As if on cue, the government handed over the site to constructors with works expected to start on Thursday after delays in State funding for the project that is meant to place Uganda in a better position to rival their neighbours Kenya and Ethiopia distance running domination in international athletics.
According to Ugandan publication, New Vision, lack of a proper road, electricity and water as well as relocation of the schools and compensation to affected landowners in the area caused the hold up of the Teryet centre that is located 12km inside the remote town of Kapchorwa that borders Kenya on the Mount Elgon side.
It sits on an altitude of 2,600m above sea level that is ideal for training distance runners and will have a jogging track, AstroTurf field with six-lane running tartan track, hostel and catering facilities among other amenities.
READ ALSO: I Want To Do A Mo Farah In Doha, World Cross King Cheptengei Roars