UN Award Elevates Eliud Kipchoge Into A Global Icon
Oct 25 - by Mutwiri Mutuota for SportPesa News
SportPesa CEO, Captain Ronald Karauri lauds Olympic champion for proving there is no barrier big enough for the human spirit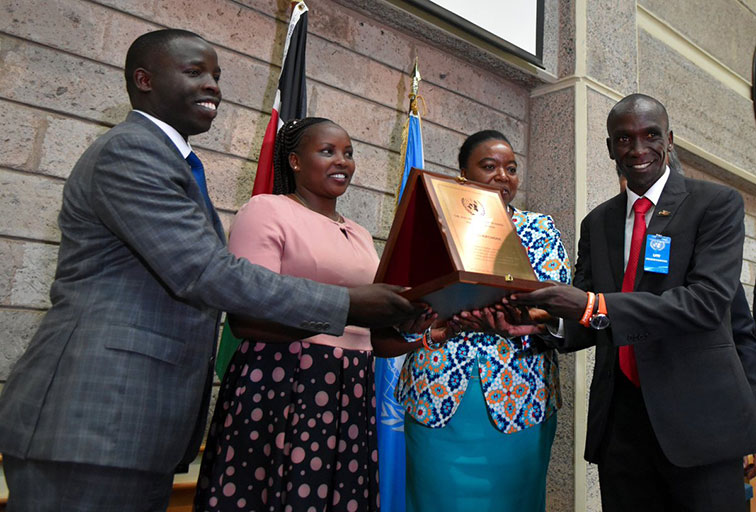 Karauri celebrated Kipchoge for his landmark achievement and hailed him as an important role model for the youth not only in Kenya but across the world
The international community and his nation at large joined in celebrating Kipchoge's latest achievement on social media throughout Wednesday and on Thursday morning, glowing headlines on the leading national dailies paid tribute
UN acknowledged Kipchoge as arguably the greatest marathoner of all time having recently smashed the world record by 1 minute 18 seconds in Berlin
NAIROBI, Kenya- The honouring of Olympic champion and world marathon record holder, Eliud Kipchoge as the UN Person of the Year 2018 on Wednesday is the most ringing endorsement yet his appeal as a global icon exceeds the sport he has loomed over large like a colossus.
In accepting his latest accolade, the three-time London and Berlin marathon winner was a magnanimous as they come, tweeting a simple message, "I'm truly humbled to be named @UnKenya person of the year. Thank you to the @UN for this great honour."
That aptly sums the man whose part of his awe-inspiring personal story he gratefully shared on SportPesa News in a three-part sequence as part of the 'A Day In Life With' series. Spare some time to go through the motivational tale here, here and here.
SportPesa Chief Executive Officer, Captain Ronald Karauri celebrated Kipchoge for his landmark achievement and hailed him as an important role model for the youth not only in Kenya but across the world.
"We congratulate Eliud Kipchoge for being named the UN Person of the Year 2018. His moving story shared on our platforms highlighted why he deserves this and more awards in future. He has shown time and time again, there are no limits to human ability, no matter what you do.
"His humility, discipline and commitment to his chosen sport has seen him transcend distance running where he has excelled beyond measure to become a respected motivational figure worldwide and an example to those aspiring to use sports as a vehicle to make a huge difference," Karauri said Thursday.
"He has truly taken every opportunity afforded to him to make it count not only at the top of his sport but as a global ambassador and we are proud of him.
"I recall spending sometime with him during the launch of our Tujiamini initiative last year where he shared his vision on how sport can be a catalyst for development, afford our youth a decent living and above all, international exposure.
"To witness him go on and break a world marathon record many thought was beyond reach in September proved to me and us all that is no barrier big enough for human spirit," the chief executive of Africa's leading gaming platform added in his statement.
Latest landmark
The international community and his nation at large joined in celebrating Kipchoge's latest achievement on social media throughout Wednesday and on Thursday morning, glowing headlines on the leading national dailies paid tribute.
"Kipchoge vows to use his status to inspire youth," The Standard screamed on their banner back-page headline, adding, "world record holder feted extraordinary accomplishment," on the kicker.
Daily Nation followed suit with "Accolades follow the king of marathon" with the small headline reading, "Messages pour in after Kipchoge is named Kenya's United Nations Personality of the Year."
"Kip feted again," The Star, who also gave the former men 5000m world champion the prominence of their the prime sports news back page wrote, "World marathon record holder, Kipchoge named the UN Person of the Year," they went on with a photo of the moment he cut the tape to set the new world record of 2:01:39 in Berlin accompanying their piece.
In their press release announcing his victory, UN wrote; "Widely acknowledged as arguably the greatest marathoner of all time, Mr. Kipchoge recently smashed the world record by 1 minute 18 seconds. It is his perseverance and steadfast resolve to put in the hard work needed that moved the UN in Kenya to make him the 16th recipient of the Award."
"I congratulate you, Eliud Kipchoge, on this great achievement, and I have no doubt you will take advantage of this opportunity to show case the values that are indispensable to the kind of success that you now enjoy," Cabinet Secretary Ambassador Monica Juma, who was the Chief Guest at the presentation ceremony held at the UN compound in Gigiri added.
"It takes extreme effort and many years to reduce one's time even by five seconds when running. Lasting achievements are based on small increments in doing the right thing," Kipchoge said at the function to honour him.
The Person of the Year Award was last year won by Ms Umra Omar of Safari Doctors, who was recognized for her work in delivering primary healthcare to marginalized communities in her home County of Lamu.
Other past recipients include First Lady Margaret Kenyatta for her Beyond Zero Campaign and three-time World Half-Marathon champion. Tegla Loroupe for peace building programmes in conflict zones.