Top Five Stories From Tuesday You Must Read Today
9th January 2019 - by Louis Kalinga
AFC Leopards SC out to make a mark in SportPesa Cup as Egypt awarded the hosting rights for 2019 AFCON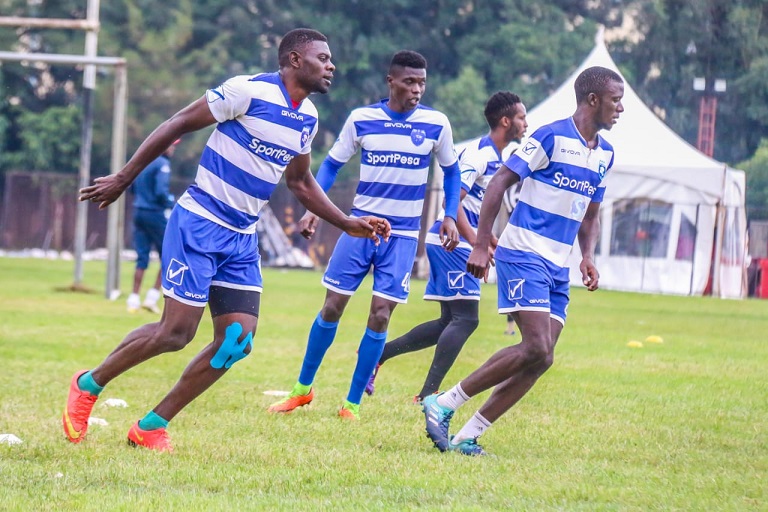 SUMMARY
The Leopards and Simba showdown will be the highlight fixture of the opening round of the third edition of the eight-team tournament at the National Stadium on Wednesday, January 23 with the 12-time Kenyan league winners hoping to go all the way to trophy match in Tanzania following their 2017 heroics

Williams won her 23rd title and seventh at Melbourne Park while eight weeks pregnant two years ago, and now attempts to match Margaret Court's mark of 24 singles majors on the Australian's home soil

Premier League champions Manchester City are at home to Burnley, while Tottenham face a tough trip to Crystal Palace.

Holders Chelsea have an easier task with Sheffield Wednesday or Luton to travel to Stamford Bridge
NAIROBI, Kenya- AFC Leopards captain, Robinson Kamura,on Tuesday declared they  will be out to make a mark in the third edition of SportPesa Cup that  gets underway at the National Stadium in Dar es Salaam, Tanzania from January 23.
The skipper underlined they are prepared to topple Vodacom Premier League Champions and home favorites Simba SC in their opening fixture of the eight team tournament.
At the same time, Arsenal FC and Manchester United FC, set a date in the FA Cup fourth round after the draw that was held on the day.
Here are the top five stories from Tuesday compiled by SportPesa News that you must read today:
Kamura: Leopards Ready To Cage Simba In Titanic SportPesa Cup Quarterfinal
NAIROBI, Kenya- AFC Leopards SC captain Robinson Kamura has assured their success-starved supporters they are prepared to topple Vodacom Premier League Champions and home favourites Simba SC in their glamour 2019 SportPesa Cup quarterfinal as they hunt a first title in the regional knockout competition in Dar-es-Salaam, Tanzania.The Leopards and Simba showdown will be the highlight fixture of the opening round of the third edition of the eight-team tournament at the National Stadium on Wednesday, January 23 with the 12-time Kenyan league winners hoping to go all the way to trophy match in Tanzania following their 2017 heroics.READ MORE
Williams Out For 24th Grand Slam At Australian Open
MELBOURNE, Australia- Serena Williams is back in Melbourne as hot favourite to repeat her 2017 Australian Open win and claim a record-equalling 24th Grand Slam with rivals, including defending champion Caroline Wozniacki, battling health issues and poor form.Williams won her 23rd title and seventh at Melbourne Park while eight weeks pregnant two years ago, and now attempts to match Margaret Court's mark of 24 singles majors on the Australian's home soil. READ MORE
Record Champions Egypt Set To Host 2019 AFCON Finals
DAKAR, Senegal- Egypt will host the 2019 Africa Cup of Nations between June 15 and July 13, Confederation of African Football (CAF) president Ahmad Ahmad announced in Dakar Tuesday.The CAF executive committee preferred Egypt to South Africa as replacements for original hosts Cameroon, who were dropped due to delays in preparations and concerns over security.READ MORE
Arsenal, Manchester United To Renew Rivalry In English Domestic Cup
LONDON, United Kingdom- The FA Cup's two most successful ever sides will meet in the fourth round as Arsenal host Manchester United in the last 32.Premier League champions Manchester City are at home to Burnley, while Tottenham face a tough trip to Crystal Palace.Holders Chelsea have an easier task with Sheffield Wednesday or Luton to travel to Stamford Bridge. READ MORE
Late Fightback Lifts Lakers Past Mavericks, Bucks Sink Jazz
LOS ANGELES, United States- Young stars Brandon Ingram and Lonzo Ball answered Los Angeles coach Luke Walton's call for more fire on Monday, leading the Lakers to a 107-97 NBA victory over the Mavericks in Dallas.Ingram scored 29 points, Ball added 21 and the Lakers erased a 13-point halftime deficit to halt a three-game skid and post just their second victory in seven games since superstar LeBron James suffered a groin injury in a Christmas Day victory over two-time defending champions Golden State. READ MORE