Top Five Stories From Tuesday You Must Read Today
5th December 2018 - by Louis Kalinga
Eliud Kipchoge crowned IAAF Male Athlete of the Year, EPL Leaders Man City go five points clear after slim victory over Watford FC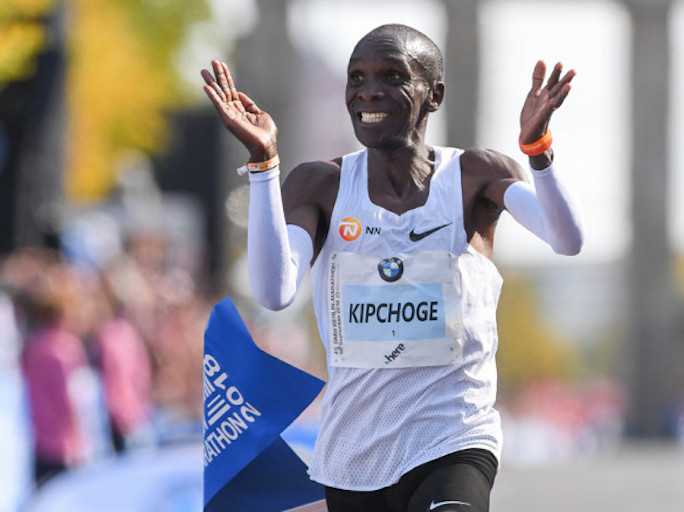 SUMMARY
Olympic champion and world marathon record holder, Eliud Kipchoge, crowned his memorable 2018 by becoming the second Kenyan in history to be crowned the IAAF Male Athlete of the Year
Gor Mahia FC will launch the defence of their SportPesa Premier League (SPL) title on Saturday against 17 challengers hell-bent on ending their quest to extend their domestic record to 18
Tusker FC head coach, Robert 'The Lion' Matano has challenged his players to put together a flying start to their 2018/19 SportPesa Premier League (SPL) campaign

NAIROBI, Kenya- Olympic champion and world marathon record holder, Eliud Kipchoge, crowned his memorable 2018 by becoming the second Kenyan in history to be crowned the IAAF Male Athlete of the Year on Tuesday night at the glittering World Gala in Monaco.
Elsewhere in the world of football, goals from Leroy Sane and Riyad Mahrez gave Manchester City a hard-fought win at Watford on Tuesday night which re-established their five-point cushion at the top of the Premier League table.
Gor Mahia FC will launch the defence of their SportPesa Premier League (SPL) title on Saturday against 17 challengers hell-bent on ending their quest to extend their domestic record to 18 next May.
Tusker FC head coach, Robert 'The Lion' Matano has challenged his players to put together a flying start to their 2018/19 SportPesa Premier League (SPL) campaign in their quest to reclaim the crown they last won in 2016.
Lastly, A fierce rivalry is in the offing between Kenya and Uganda in the second leg of the Fédération Internationale de Motocyclisme (FIM) Central Africa Motorsport challenge at Jamhuri Park in Nairobi this weekend.
Here are the top five stories from Tuesday compiled by SportPesa News that you must read today:
Kipchoge Crowned The 2018 IAAF Male Athlete Of The Year
MONACO, Principality of Monaco- Olympic champion and world marathon record holder, Eliud Kipchoge, crowned his memorable 2018 by becoming the second Kenyan in history to be crowned the IAAF Male Athlete of the Year on Tuesday night at the glittering World Gala in Monaco. The queen of parallel jumps, Catherine Ibaguen was named the IAAF Female Athlete of the Year Award. READ MORE
Champions City Survive Late Watford Scare To Go Five Clear
WATFORD, England- Goals from Leroy Sane and Riyad Mahrez gave Manchester City a hard-fought win at Watford on Tuesday night which re-established their five-point cushion at the top of the Premier League table. City had been frustrated early on by saves from Watford goalkeeper Ben Foster until Sane scored in the 40th minute by bundling in Riyad Mahrez's inswinging cross with his chest. READ MORE
Five Key Talking Points Of The 2018/19 SPL Season
NAIROBI, Kenya- Gor Mahia FC will launch the defence of their SportPesa Premier League (SPL) title on Saturday against 17 challengers hell-bent on ending their quest to extend their domestic record to 18 next May. The abridged 2018/19 campaign will run for six months as the country races to harmonise its top flight with the international FIFA calendar next year. READ MORE
Fidelity Coach Of The Month Winner Matano Wants Racing Start From Tusker
NAIROBI, Kenya- Tusker FC head coach, Robert 'The Lion' Matano has challenged his players to put together a flying start to their 2018/19 SportPesa Premier League (SPL) campaign in their quest to reclaim the crown they last won in 2016. The tough-talking Matano got the perfect pre-season gift on Tuesday morning when he was crowned the 2018 season as September/October Fidelity Insurance coach of the Month, pocketing KSh75,000 and a plaque. READ MORE
Kenya, Uganda Set To Renew FIM Motorsport Rivalry At Jamhuri Park
NAIROBI, Kenya- A fierce rivalry is in the offing between Kenya and Uganda in the second leg of the Fédération Internationale de Motocyclisme (FIM) Central Africa Motorsport challenge at Jamhuri Park in Nairobi this weekend. The event is crucial to Kenyan riders as it is part of the ninth and last round of Kenya Motocross Championship circuit. READ MORE