Top Five Stories From Thursday You Must Read Today
Feb 01 - by Louis Kalinga for SportPesa News
Gor Mahia FC all set to host Egyptian Giants Zamalek FC at Kasarani on Sunday, Emery Hails Denis Suarez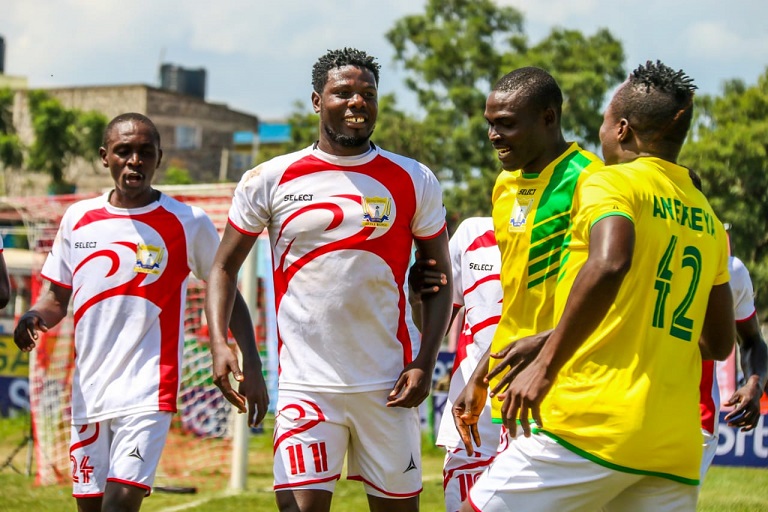 It will be a throwback to a bygone glorious era when SportPesa Premier League champions, Gor Mahia FC host Egyptian giants, Zamalek FC on Sunday at the Moi International Sports Centre, Kasarani
Allan Wanga and the 'Slum Derby' were trending topics on social media and online chatrooms following Wednesday's round of the SportPesa Premier League (SPL) action
Lionel Messi believes Barcelona showed their appetite for the Copa del Rey by blowing away Sevilla 6-1 on Thursday to pull off a brilliant comeback and book their place in the semi-finals

NAIROBI, Kenya- It will be a throwback to a bygone glorious era when SportPesa Premier League champions, Gor Mahia FC host Egyptian giants, Zamalek FC on Sunday at the Moi International Sports Centre, Kasarani.
Allan Wanga and the 'Slum Derby' were trending topics on social media and online chatrooms following Wednesday's round of the SportPesa Premier League (SPL) action.
In international football, Lionel Messi believes Barcelona showed their appetite for the Copa del Rey by blowing away Sevilla 6-1 on Thursday to pull off a brilliant comeback and book their place in the semi-finals and Unai Emery praises Denis Suarez after he joined Arsenal FC.
Lastly, Wales will bid to equal their longest winning sequence since 1999 when they take on France in Friday's opening game of the Six Nations, Warren Gatland's last campaign as Welsh coach.
Here are the top five stories from Thursday compiled by SportPesa News that you must read today:
Gor, Zamalek Clash Echoes One Of The Most Scandalous Games In CAF History
NAIROBI, Kenya- It will be a throwback to a bygone glorious era when SportPesa Premier League champions, Gor Mahia FC host Egyptian giants, Zamalek FC on Sunday at the Moi International Sports Centre, Kasarani. The Cairo giants are scheduled to land in Nairobi on Friday at 3:30am EAT (+3GMT) for the opening Pool D CAF Confederations Cup with the continental governing body appointing Celso Armindo Alvacao from Mozambique as the center referee for a fixture steeped deep in history. READ MORE
This Is Why Wanga, Slum Derby Set Social Media Alight
NAIROBI, Kenya- Allan Wanga and the 'Slum Derby' were trending topics on social media and online chatrooms following Wednesday's round of the SportPesa Premier League (SPL) action. The Internet was abuzz after Wanga selected himself to start for Kakamega Homeboyz FC before scoring a brace in their 4-0 thumping of SportPesa Cup losing finalists Bandari FC at Bukhungu Stadium, Kakamega otherwise nicknamed on social media Estadio de Bukhungu. READ MORE
Wales Aiming To Stretch Streak In France Six Nations Opener
PARIS, France- Wales will bid to equal their longest winning sequence since 1999 when they take on France in Friday's opening game of the Six Nations, Warren Gatland's last campaign as Welsh coach. With a favourable fixture list that sees them host England and defending Grand Slam champions Ireland, an experienced Wales side is expected to mount a serious challenge for a third title under Gatland, having won the Grand Slam in 2008 -- his first year in charge -- and 2012. READ MORE
Messi: Sevilla Thrashing Shows Barcelona's Hunger For All 3 Titles
BARCELONA, Spain- Lionel Messi believes Barcelona showed their appetite for the Copa del Rey by blowing away Sevilla 6-1 on Thursday to pull off a brilliant comeback and book their place in the semi-finals. Sevilla had won the first leg 2-0 but their lead was wiped out within 31 minutes at the Camp Nou, after Philippe Coutinho scored a penalty, deferred to him by Messi, before Ivan Rakitic poked in a second. READ MORE
Dennis Suarez At Arsenal: Gunners Boss Emery Hails Quality Player
LONDON, England- Arsenal FC manager, Unai Emery has hailed the capture of Spanish international, Dennis Suarez who joined the Gunners from FC Barcelona initially on a loan deal. He was speaking to the club's website on Thursday when Arsenal confirmed the signing in January window transfer deadline day. READ MORE