Top Five Stories From Saturday You Must Read Today
Mar 31 - by Erick Ochieng for SportPesa News
Obiri commands Aarhus 2019 IAWorld Cross-Country in Denmark, Huddersfield Town FC relegated from the English Premier League after a 2-0 defeat at Crystal Palace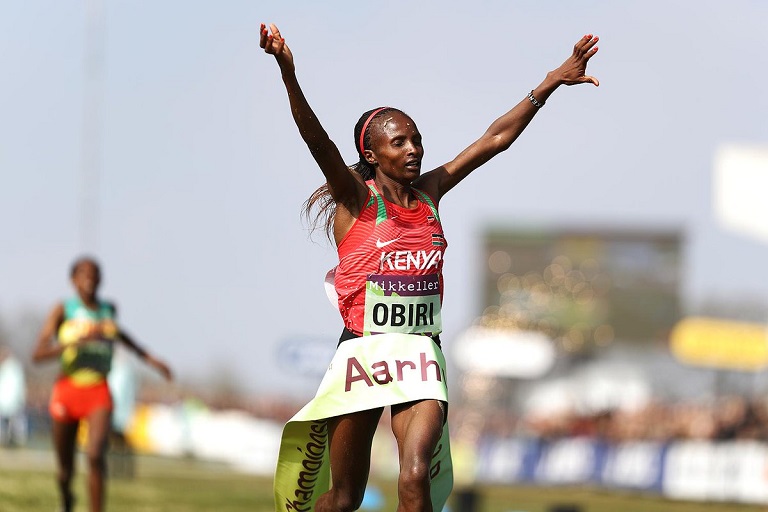 Social media went on meltdown throughout Friday when a letter signed Sports Kenya Director General, Pius Metto, declining Gor the use of the 60,000-seater Kasarani surfaced as it emerged an exhibition organised by the Kenya Association of Manufacturers (KAM) running from April 5 to April 7, the match day, had been booked for the stadium
The Olympic silver medallist and world 5000m champion completed the savage course to move to the rank of one of the greats in 36:14, two seconds ahead of her biggest rival and Ethiopian national cross winner, Dera Dida. Getsenet Gidey, the two-time World Cross under 20 champion crowned her step up to the seniors by coming home in 36:24
Elsewhere, Southampton FC edged Burnley 1-0 to move further away from trouble with Leicester City FC and Burnley FC also coming away with wins over Wolves and Bournemouth
NAIROBI, Kenya- Champions Gor Mahia FC scaled to the summit of the 2018/19 SportPesa Premier League (SPL) after ending their miserable run against domestic cup holders, Kariobangi Sharks FC 2-1 on Saturday afternoon at the Moi Stadium, Kisumu.

Hellen Obiri became the first female in history to win senior world titles indoors, outdoors and cross country when she survived a brutal challenge to complete a wire-to-wire victory in the women 10km showdown at Aarhus 2019 IAAF World Cross in Denmark on the day.
Here are the top five stories from Saturday compiled by SportPesa News that you must read today:
Online Backlash Wins Gor Right To Play Berkane At Kasarani But Was It Enough?
NAIROBI, Kenya- Gor Mahia FC will use the Moi International Sports Centre, Kasarani for their high-profile first leg of the 2018/19 CAF Confederations Cup quarterfinal against RSB Berkane of Morocco after Sports Kenya caved in to social media pressure on Friday evening to allow the club to access the facility. Social media went on meltdown throughout Friday when a letter signed Sports Kenya Director General, Pius Metto, declining Gor the use of the 60,000-seater Kasarani surfaced as it emerged an exhibition organised by the Kenya Association of Manufacturers (KAM) running from April 5 to April 7, the match day, had been booked for the stadium. READ MORE
Table-Topping Gor Toss Sharks To The Tank, Chemelil Stun Tusker
KISUMU, Kenya- Champions Gor Mahia FC scaled to the summit of the 2018/19 SportPesa Premier League (SPL) after ending their miserable run against domestic cup holders, Kariobangi Sharks FC 2-1 on Saturday afternoon at the Moi Stadium, Kisumu. At the same time, Chemelil Sugar FC stunned 11-time champions Tusker FC by the same score at the Chemelil Sugar Complex in yet another serious knock to the Brewers' aspirations of reclaiming the crown from K'Ogalo. READ MORE
Hellen Obiri Powers To History In Brutal Women Senior 10Km Battle
AARHUS, Denmark- Hellen Obiri became the first female in history to win senior world titles indoors, outdoors and cross country on Saturday when she survived a brutal challenge to complete a wire-to-wire victory in the women 10km showdown at Aarhus 2019 IAAF World Cross on Saturday afternoon. The Olympic silver medallist and world 5000m champion completed the savage course victorious in 36:14 to rank among the greats, two seconds ahead of her biggest rival and Ethiopian national cross winner, Dera Dida who pushed her all the way to the tape. READ MORE
Perez, Stroll Revved Up To Score, Vettel Blazes The Trail In Bahrain
SAKHIR, Bahrain- Having felt the Bahrain Grand Prix course in the first two practise sessions, the SportPesa Racing Point Formula 1 Team drivers, Sergio Perez and Lance Stroll maintained their cars are tuned to score much-needed points for the revamped outfit. Early Saturday, four-time world champion, Sebastian Vettel and his Ferrari teammate, Charles Leclerc blazed the charts with Perez steering the Mercedes engine-powered Racing Point car to 13th with a best lap of 1:30.176 after completing 32 laps in the second practice session. READ MORE
Huddersfield Relegated, Man United Clip Watford As Saints Down Burnley
LONDON, England- Huddersfield Town FC equalled the record for the earliest Premier League relegation after a 2-0 defeat at Crystal Palace as Ole Gunnar Solskjaer enjoyed victory as full-time Manchester United FC manager on Saturday. Elsewhere, Southampton FC edged Burnley 1-0 to move further away from trouble with Leicester City FC and Burnley FC also coming away with wins over Wolves and Bournemouth. READ MORE