Top Five Stories From Saturday You Must Read Today
Jan 06 - by Louis Kalinga for SportPesa News
Dennis Oliech's second coming spices up Mathare United vs Gor Mahia fixture, Cinema Stun Githurai to be crowned KothBiro Champions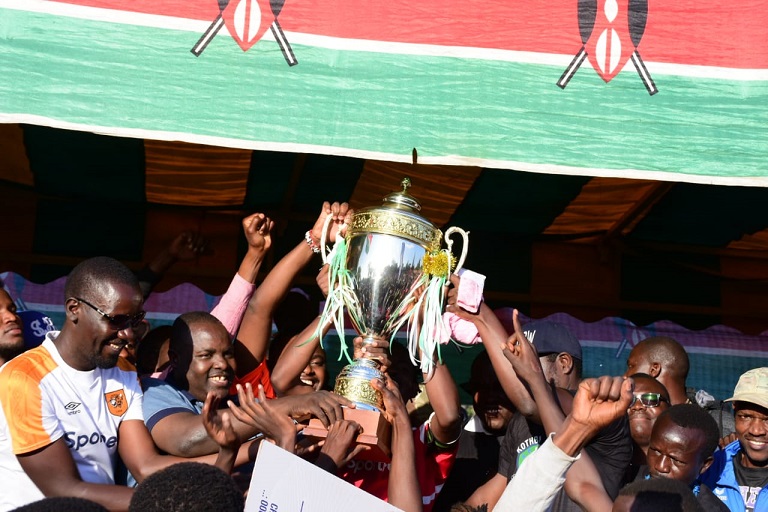 The second coming of Dennis 'The Menace' Oliech to domestic football will have a nation on tenterhooks when his former side Mathare United FC host Gor Mahia FC at the Moi International Sports Centre, Kasarani on Sunday
Ademola Lookman and Bernard both struck inside three first-half minutes to propel Everton past Lincoln City and into the FA Cup fourth round in a 2-1 win at Goodison Park on Saturday night
Tusker FC leapt above Mathare United FC to the summit of the SportPesa Premier League (SPL) on Saturday afternoon when they came off the better of a five-goal thriller with a 3-2 victory at Kenyatta Stadium in Machakos

NAIROBI, Kenya- The second coming of Dennis 'The Menace' Oliech to domestic football will have a nation on tenterhooks when his former side Mathare United FC host Gor Mahia FC at the Moi International Sports Centre, Kasarani on Sunday.
Ademola Lookman and Bernard both struck inside three first-half minutes to propel Everton past Lincoln City and into the FA Cup fourth round in a 2-1 win at Goodison Park on Saturday night.
Tusker FC leapt above Mathare United FC to the summit of the SportPesa Premier League (SPL) on Saturday afternoon when they came off the better of a five-goal thriller with a 3-2 victory at Kenyatta Stadium in Machakos.
In Athletics, Ethiopian pair Abera Kuma and defending champion Amane Gobena will headline the men and women fields of the Tata Mumbai Marathon (TMM 2019, an IAAF Gold Label Road Race and one of Asia's leading marathons on January 20. In 2018, Ethiopian athletes swept the City of Dreams double, leading the men's list, which contains four runners who have run under 2:08:00, and 11 under 2:09:00 is Kuma.
Here are the top five stories from Saturday compiled by SportPesa News that you must read today:
Oliech Second Coming Spices Mathare, Gor Crunch SPL Showdown
NAIROBI, Kenya- The second coming of Dennis 'The Menace' Oliech to domestic football will have a nation on tenterhooks when his former side Mathare United FC host Gor Mahia FC at the Moi International Sports Centre, Kasarani on Sunday. The top bill SportPesa Premier League (SPL) clash of the 2008 title winners and log leaders against the giants they are aiming to topple from the throne has already served up rich subplots including digs on social media. READ MORE
Classy Everton Hold Off Lincoln With Lookman, Bernard On Target
LIVERPOOL, England- Ademola Lookman and Bernard both struck inside three first-half minutes to propel Everton past Lincoln City and into the FA Cup fourth round in a 2-1 win at Goodison Park on Saturday night. Lookman skillfully headed in on 12 minutes and fellow wide man Bernard doubled Everton's advantage when he applied the decisive touch to a flowing move shortly after. READ MORE
Ethiopians Kuma, Gobena Front Tata Mumbai Marathon Fields
MUMBAI, India- Ethiopian pair Abera Kuma and defending champion Amane Gobena will headline the men and women fields of the Tata Mumbai Marathon (TMM 2019, an IAAF Gold Label Road Race and one of Asia's leading marathons on January 20. In 2018, Ethiopian athletes swept the City of Dreams double, leading the men's list, which contains four runners who have run under 2:08:00, and 11 under 2:09:00 is Kuma. READ MORE
Tusker Take Charge Of SPL: Fightback Floors Spirited Sofapaka
NAIROBI, Kenya- Tusker FC leapt above Mathare United FC to the summit of the SportPesa Premier League (SPL) on Saturday afternoon when they came off the better of a five-goal thriller with a 3-2 victory at Kenyatta Stadium in Machakos. The Brewers scaled to the top of the pile on goal-difference after a stirring second half fightback after John Avire gave Sofapaka the lead in the 38th minute. READ MORE
Cinema Stun Star-Studded Githurai To Lift Koth Biro Crown
NAIROBI, Kenya- Cinema FC from Maringo stunned star-studded Githurai United FC 1-0 to lift the 40th edition of Koth Biro football tournament at Umeme Grounds in Ziwani, Nairobi on Saturday afternoon. The solitary goal was scored by Steve Opuku who drilled in on the rebound to give his side a 1-0 lead in the 19th minute after Githurai custodian,Boniface Maundu punched the ball back into play. READ MORE