Top Five Stories From Monday You Must Read Today
19th March 2019 - by Louis Kalinga
A deeper look into what Gor Mahia FC's CAF Confederations Cup qualification means, Athletics royalty gives David Rudisha's father the perfect send off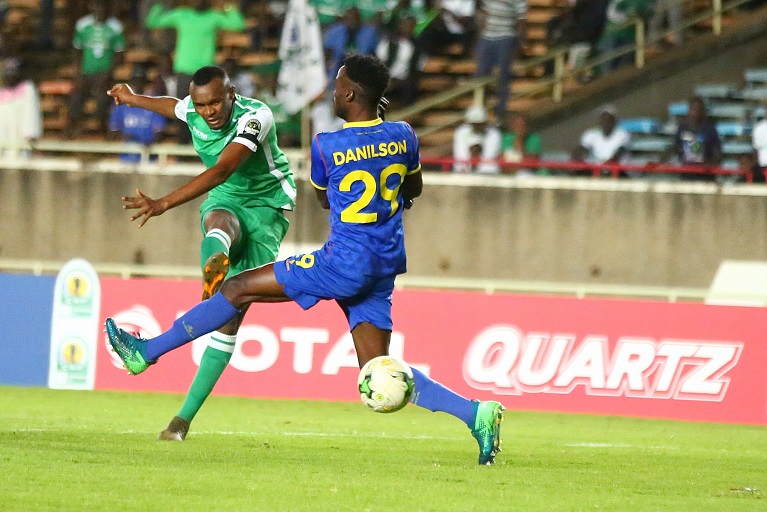 SUMMARY
Gor Mahia FC's 1-0 victory over Petro Atletico de Luanda that saw them qualify for the quarterfinals of the CAF Confederations Cup for the first time, was not only a huge win for the club but for the entire country
Athletics royalty, senior political figures and the teaching fraternity turned out in force on Monday at Ol Tanki Village, Kilgoris to give a heroic send-off to pioneering runner and 1968 Olympics silver medallist, Daniel Matasi
British former professional boxer Anthony Lewis Bellew had an impressive record in his amateur and professional career that ended in 2018

NAIROBI, Kenya- Gor Mahia FC's 1-0 victory over Petro Atletico de Luanda that saw them qualify for the quarterfinals of the CAF Confederations Cup for the first time, was not only a huge win for the club but for the entire country.
Athletics royalty, senior political figures and the teaching fraternity turned out in force on Monday at Ol Tanki Village, Kilgoris to give a heroic send-off to pioneering runner and 1968 Olympics silver medallist, Daniel Matasi - the father of men 800m record holder David Lekuta Rudisha.
British former professional boxer Anthony Lewis Bellew had an impressive record in his amateur and professional career that ended in 2018.
Kenya Prisons boxer Rayton 'Boom Boom' Okwiri is one of the most consistent pugilists in his career that has earned him both amateur and professional accolades.
Here are the top five stories from Monday compiled by SportPesa News that you must read today:
Gor Mahia's Stunning CAF Qualification A Beacon Of Hope For Kenyan Football
NAIROBI, Kenya- Gor Mahia FC's 1-0 victory over Petro Atletico de Luanda that saw them qualify for the quarterfinals of the CAF Confederations Cup for the first time, was not only a huge win for the club but for the entire country. Nine-man Gor battled to a slim win at the Kasarani Stadium on Sunday to see them finish as runners-up of Group D, level on points with winners Zamalek SC, but with an inferior goal difference. READ MORE
Athletics Royalty Gathers In Kilgoris For Daniel Rudisha's Heroic Send Off
KILGORIS, Kenya- Athletics royalty, senior political figures and the teaching fraternity turned out in force on Monday at Ol Tanki Village, Kilgoris to give a heroic send-off to pioneering runner and 1968 Olympics silver medallist, Daniel Matasi - the father of men 800m record holder David Lekuta Rudisha. During the daylong burial owing to the sheer volume of speakers, repeated calls were made to expedite the construction of the Daniel Rudisha Stadium in Kilgoris as well as establishing sports and academic scholarships for the benefit of youth from his home area as an enduring legacy to the departed icon on the two things he lived for. READ MORE
Nairobi Fight Night 2: Six Most Memorable Tony Bellew Fights
NAIROBI, Kenya- British former professional boxer Anthony Lewis Bellew had an impressive record in his amateur and professional career that ended in 2018. Bellew turned professional on October 6, 2007 but had to wait for three years to challenge for a belt. READ MORE
Nairobi Fight Night 2: Rayton 'Boom Boom' Okwiri, The Kenyan Rising Warrior
NAIROBI,Kenya- Kenya Prisons boxer Rayton 'Boom Boom' Okwiri is one of the most consistent pugilists in his career that has earned him both amateur and professional accolades. He first came to the limelight three years ago when he punched his way to the Rio 2016 Olympics Games in Brazil in style at the Africa Boxing Championships held in Yaounde, Cameroon in March 2016. READ MORE
Five Things We Learned From The Season Opening Australian GP
Pre-season testing pointed to Ferrari having the upper hand but Mercedes proved consistently faster throughout the weekend as Lewis Hamilton dominated the free practice sessions and qualifying while his flying Finnish team-mate Valtteri Bottas got off to a stunning start by winning Sunday's race by almost 21 seconds from the Briton. READ MORE