Top Five Stories From Monday You Must Read Today
Jan 08 - by Louis Kalinga for SportPesa News
Bandari FC, Singida United FC set to kick off the 2019 SportPesa Cup in Dar es Saalam, Guinea accepts to host the 2023 AFCON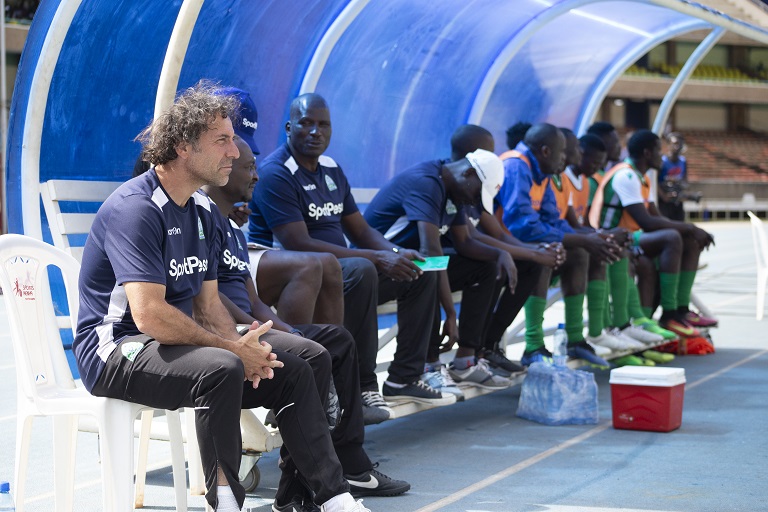 Debutants Bandari FC and Tanzanian outfit Singida United FC will get the 2019 SportPesa Cup underway when they clash in the opening fixture scheduled for the National Stadium in Dar-es-Salaam on January 22
Kenya Sevens star William 'Lomu' Ambaka and Harambee Stars keeper Patrick Matasi made the final shortlist of the sought-after Sportsman of the Year category of the 2018 Safaricom Sports Personality of the Year Awards (Soyas) headlined by world marathon record holder, Eliud Kipchoge
Gor Mahia FC coach Hassan Oktay expressed disappointment in his forwards for failing to capitalize on the chances created in the 1-1 draw against Mathare United FC but maintained his side are on the right path

NAIROBI, Kenya- Debutants Bandari FC and Tanzanian outfit Singida United FC will get the 2019 SportPesa Cup underway when they clash in the opening fixture scheduled for the National Stadium in Dar-es-Salaam on January 22.
Gor Mahia FC coach Hassan Oktay expressed disappointment in his forwards for failing to capitalize on the chances created in the 1-1 draw against Mathare United FC but maintained his side are on the right path.
Guinea has accepted to stage the 2025 Africa Cup of Nations instead of the 2023 edition, a move that confirms Cameroon as the 2021 hosts, the Confederation of African Football (CAF) president said Monday.
Formula One outfit Ferrari are set for a management reshuffle with team principal Maurizio Arrivabene to be replaced by technical director Mattia Binotto, according to reports in Italy on Monday.
Here are the top five stories from Monday compiled by SportPesa News that you must read today:
Bandari, Singida To Get 2019 SportPesa Cup Underway In Dar
NAIROBI, Kenya- Debutants Bandari FC and Tanzanian outfit Singida United FC will get the 2019 SportPesa Cup underway when they clash in the opening fixture scheduled for the National Stadium in Dar-es-Salaam on January 22. The Dockers who finished runner-ups in the 2018 SportPesa Premier League are among three teams making their maiden appearances in the third edition of the annual eight-team regional knockout tournament that returns to Tanzania following its inaugural running in 2017. READ MORE
Soyas 2018: Kipchoge, Matasi, Ambaka To Battle For Sportsman Award
NAIROBI, Kenya- Kenya Sevens star William 'Lomu' Ambaka and Harambee Stars keeper Patrick Matasi made the final shortlist of the sought-after Sportsman of the Year category of the 2018 Safaricom Sports Personality of the Year Awards (Soyas) headlined by world marathon record holder, Eliud Kipchoge. Ambaka and Matasi will be seeking to end the stranglehold of the top accolade by athletes with Olympic 3000m steeplechase champion Conseslus Kipruto and world 1500m champion, Elijah Manangoi rounding off the five nominees. READ MORE
Mattia Binotto Set To Replace Arrivabene In Ferrari F1 Reshuffle
MILAN, Italy- Formula One outfit Ferrari are set for a management reshuffle with team principal Maurizio Arrivabene to be replaced by technical director Mattia Binotto, according to reports in Italy on Monday. Gazzetta Dello Sport reported that Arrivabene's contract will not be renewed following another disappointing season, with management errors blamed for the team missing out once again to Mercedes. READ MORE
Cameroon Confirmed As 2021 AFCON Hosts, Guinea Gets 2023 Edition
CONAKRY, Guinea- Guinea has accepted to stage the 2025 Africa Cup of Nations instead of the 2023 edition, a move that confirms Cameroon as the 2021 hosts, the Confederation of African Football (CAF) president said Monday. "I am delighted with this change in the organisation of the calendar that will see the Nations Cup take place in Guinea in 2025 and I am proud that the president of Guinea, Alpha Conde, has himself accepted," Ahmad Ahmad said. READ MORE
Oktay Confident Gor Are On The Right Path Despite Mathare Stalemate
NAIROBI, Kenya- Gor Mahia FC coach Hassan Oktay expressed disappointment in his forwards for failing to capitalize on the chances created in the 1-1 draw against Mathare United FC but maintained his side are on the right path. The league leaders equalized early in the second half through a Kevin Kimani penalty after Jacques Tuyisenge had put Gor in the lead in the 33rd minute, also from the spot. READ MORE