Top Five Stories From Monday You Must Read Today
6th November 2018 - by Mutwiri Mutuota
Final countdown of Gor tour in Everton tolls, Keitany storms back to the top of the women marathon running pile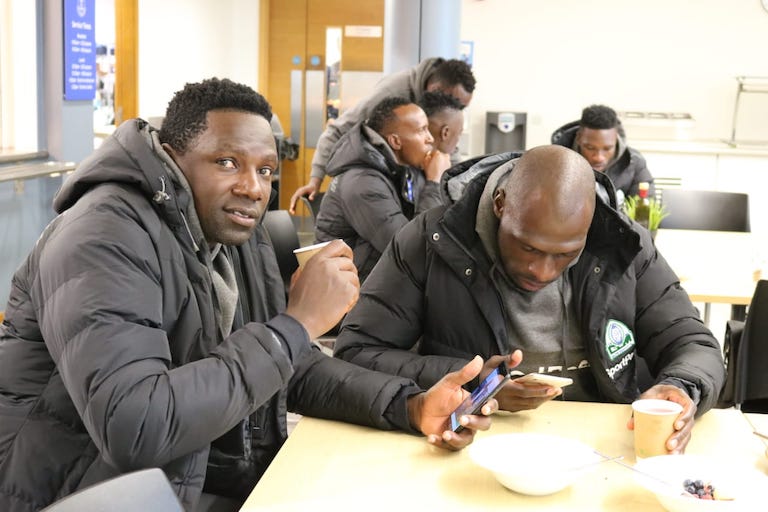 SUMMARY
On the eve of the game that kicks off at 7pm local time (10pm EAT), K'Ogalo were busy, starting the day at USM Finch Farm training base before having a feel of the Goodison and wrapping up their outing with a visit to the mind blowing 'Everton in the Community' initiative
Still on football, fans wishing to see Harambee Starlets in action against 2018 CAF Africa Women Cup of Nations hosts Ghana Black Queens on Wednesday will not cough a dime to enter MISC Kasarani, the federation announced on Monday
To round off the top five picks on SportPesa News from Monday you must read today, find out how Mary Keitany returned to the top of the female marathon running after being bitten twice
NAIROBI, Kenya- Monday was all about the final countdown to the historic fixture that will see the pride of Kenyan football, Gor Mahia FC put their might to the test against English Premier League heavyweights, Everton FC at Goodison Park.
On the eve of the game that kicks off at 7pm local time (10pm EAT), K'Ogalo were busy, starting the day at USM Finch Farm training base before having a feel of the Goodison and wrapping up their outing with a visit to the mind blowing 'Everton in the Community' initiative.
Our reporter in Liverpool, Louis Kalinga, was on hand to give a detailed lowdown of all that went down on Monday's leg of the 'Gor in Everton' tour.
Still on football, fans wishing to see Harambee Starlets in action against 2018 CAF Africa Women Cup of Nations hosts Ghana Black Queens on Wednesday will not cough a dime to enter MISC Kasarani, the federation announced on Monday.
To round off the top five picks on SportPesa News from Monday you must read today, find out how Mary Keitany returned to the top of the female marathon running after being bitten twice.
Raila Arrival Softens Tuyisenge Blow For Gor On Eve Of Everton Tie
LIVERPOOL, England- The time for fanciful dreams, hopes and all talk of giving their more fancied opposition, Everton FC a good go is now over for Kenyan giants Gor Mahia FC. Having beaten all odds to be part of the historic tour to the United Kingdom to face the Blues at Goodison Park, Gor must face their hosts without their top striker, Jacques Tuyisenge as they pursue another glittering chapter in their decorated history. READ MORE
Gor Feel Power Of 'Everton In The Community' Project
LIVERPOOL, United Kingdom- Everton Football Club has a strong sense of giving back to the community that has supported them through thick and thin for the record 114 years they have played at the summit of the English game. It's flagship 'Everton in the Community' programme is the vehicle the Blues to impact on the people of the city of Liverpool where the club proudly calls home. READ MORE
Upbeat Gor Wrap Up Final Training Ahead Of Landmark Everton Tie
LIVERPOOL, United Kingdom- The mood at Everton's USM Finch Farm was full of energy and banter on Monday morning as Gor Mahia FC went through their final training session ahead of their landmark encounter against Everton FC on Tuesday. The temperatures were the lowest they had been since the Kenyans arrived on Friday, with the city of Liverpool hitting lows of six degrees. READ MORE
Free Entry For Starlets, Black Queens Friendly Showdown At Kasarani
NAIROBI, Kenya- As Harambee Starlets step up preparations for their 2018 CAF Africa Women Cup of Nations (AWCON) campaign on Wednesday when they face tournament hosts Black Queens of Ghana in an international friendly, fans can give them support by watching them in action for free. On Monday, Football Kenya Federation (FKF) announced the waiver of gate charges for the fixture that will be played at the Moi International Sports Centre, Kasarani starting at 4pm local time (+3GMT). READ MORE
Twice Bitten Keitany Strikes Back In New York To Restore Pride
NAIROBI, Kenya- Once bitten, twice shy they say. For Mary Keitany, it was a case of twice bitten after losing the 2017 New York and 2018 London marathon titles, threatening her status as the most eminent female marathoner on the planet. Having set the staggering women's only world record of 2:17:01 at last year's London showdown to complete a hat trick of victories at the prestigious race, Keitany lined up for a defence of her New York crown later that fall. READ MORE