Top Five Stories From Friday You Must Read Today
12th January 2019 - by Louis Kalinga
Kipchoge Keino crowned Sports Personality Of The Year At The Soya Awards, Kapaito returns for Kariobangi Sharks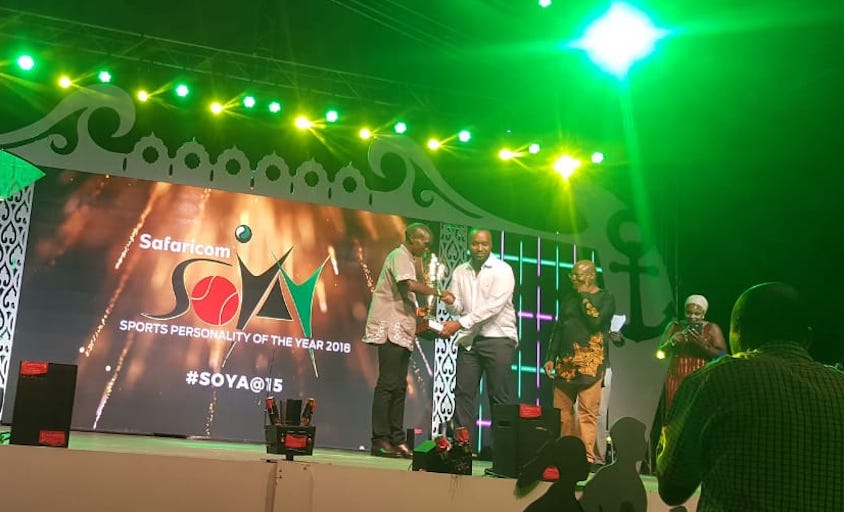 SUMMARY
Eliud Kipchoge started this year in the same glorious fashion he finished the last on Friday night when he was crowned the Overall Personality of the Year at the glittering 2018 Safaricom Sports Personality of the Year Awards (Soyas)
The palpable feeling that this is the year when the SportPesa Cup will be lifted by a Tanzanian team is sweeping across Dar-es-Salaam ahead of the third showdown that will run in the commercial capital from January 22 to 27
The return of prolific striker, Erick Kapaito, has boosted Kariobangi Sharks FC who will host early frontrunners and second-placed Western Stima FC in round seven of the SportPesa Premier League(SPL) at the Kenyatta Stadium

NAIROBI, Kenya- Eliud Kipchoge started this year in the same glorious fashion he finished the last on Friday night when he was crowned the Overall Personality of the Year at the glittering 2018 Safaricom Sports Personality of the Year Awards (Soyas) held for the first time in the coastal city of Mombasa.
A tearful Andy Murray on Friday announced he would likely retire this year due to severe pain from a hip injury, saying next week's Australian Open could be the last tournament of a glittering career.
The return of prolific striker, Erick Kapaito, has boosted Kariobangi Sharks FC who will host early frontrunners and second-placed Western Stima FC in round seven of the SportPesa Premier League(SPL) at the Kenyatta Stadium on Sunday.
Here are the top five stories from Friday compiled by SportPesa News that you must read today:
Kipchoge Rules 2018 Soyas, Harambee Stars Named Team Of The Year
MOMBASA, Kenya- Eliud Kipchoge started this year in the same glorious fashion he finished the last on Friday night when he was crowned the Overall Personality of the Year at the glittering 2018 Safaricom Sports Personality of the Year Awards (Soyas) held for the first time in the coastal city of Mombasa. The Olympic champion and world marathon record holder was the toast of the night having been honoured with a stunning exploding fireworks display at the 15th running of the gala held at the iconic Fort Jesus fortress- fittingly built in the 15th century- having earlier risen to receive the coveted Male Sports Personality of the Year Award. READ MORE
Sorry Kenya, The SportPesa Cup Will Not Leave Tanzania- Fans
DAR-ES-SALAAM, Tanzania- The palpable feeling that this is the year when the SportPesa Cup will be lifted by a Tanzanian team is sweeping across Dar-es-Salaam ahead of the third showdown that will run in the commercial capital from January 22 to 27. Having seen the might of their teams blunted by two-time winners, Gor Mahia FC of Kenya, devoted fans in the football mad city are exuding confidence one of their beloved teams will host English Premier League side Everton FC later this year by winning the eight-team regional invitational tournament on home soil. READ MORE
Five Memorable Moments Of Andy Murray's Glittering Tennis Career
LONDON, United Kingdom- A tearful Andy Murray on Friday announced he would likely retire this year due to severe pain from a hip injury, saying next week's Australian Open could be the last tournament of a glittering career. AFP Sport looks at five memorable moments in the 31-year-old Scotsman's career: READ MORE
Sharks Boosted By Kapaito Return Ahead Of Crucial Stima Duel
NAIROBI, Kenya- The return of prolific striker, Erick Kapaito, has boosted Kariobangi Sharks FC who will host early frontrunners and second-placed Western Stima FC in round seven of the SportPesa Premier League(SPL) at the Kenyatta Stadium on Sunday. The SPL Most Valuable Player started serious training with the club early in the week and head coach William Muluya is confident the forward will be ready for the showdown with Stima. READ MORE
In Form Yanga Train Guns At Ending Gor SportPesa Cup Reign
DAR-ES-SALAAM, Tanzania- Record Tanzania league winners, Dar Young Africans (Yanga) SC captain Deus Kaseke is hoping his side meets holders Gor Mahia FC in the 2019 SportPesa Cup that kicks off on January 22. Yanga- who have a yawning 10-point lead over the competition in the Vodacom Premier League (VPL) as they chase their record-extending 28th domestic title- take on SportPesa Shield winners Kariobangi Sharks FC of Kenya in the quarterfinal of the eight-team regional knock out tournament on January 22. READ MORE