Top Five Stories From Friday You Must Read Today
Dec 08 - by Erick Ochieng for SportPesa News
Kipchoge believes patience propelled him to be a world beater in athletics, Bandari lay in wait for Gor in their SportPesa Premier League clash in Mombasa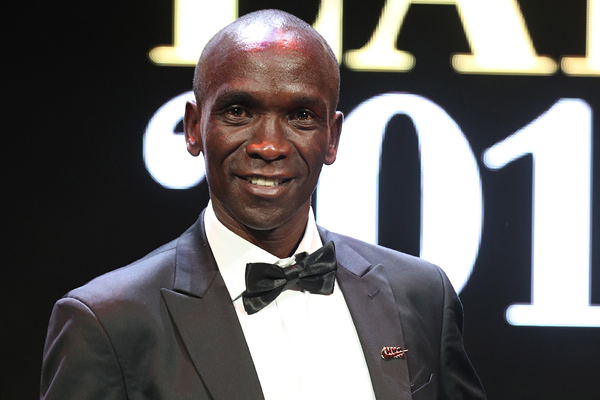 Kipchoge hasn't yet made any concrete plans for 2019. He says he will sit down with Sang and his team in January to plot out his racing schedule for the year. One thing is certain, though: he won't return to the track

Mulumba expressed belief in Bandari as they prepare to launch their

SportPesa Premier League (SPL) campaign against Gor Mahia FC at Mbaraki Sports Club at 3PM (+3 GMT) on Saturday, December 8

The nine-minute exhibition in Japan will have no official winner or loser if it goes the distance, and Mayweather said at a press availability at his training base in Las Vegas on Thursday that he was looking forward to the event as a chance to sample "something different"
NAIROBI, Kenya- Olympic champion and world marathon record holder, Eliud Kipchoge, on Friday explained how patience has played a key role in the rise of his career which saw him being crowned the 2018 IAAF Male Athlete of the Year in Monaco , France, early this week.
Bandari FC captain, Felly Mulumba, also expressed confidence on the day saying they have what it takes to stop defending champions and 17-time domestic league winners Gor Mahia FC, ahead of their SportPesa Premier League clash in Mombasa on Saturday.
Internationally, American boxing super star, Floyd Mayweather, finally agreed to engage Japanese kickboxer, Tenshin Nasukawa, as Manchester United boss, Jose Mourinho, explained why Brazilian midfielder, Fred, is not getting playing time at the club.
Here are the top five stories from Thursday compiled by SportPesa News that you must read today:
Sixteen Years In The Making, Kipchoge Now Confirmed As The Best In The World
MONACO, France- Eliud Kipchoge may have covered one of the sport's most iconic distances faster than any other athlete in history, but the Kenyan marathon runner is in no hurry.Just hours before being named the IAAF Male Athlete of the Year for 2018, Kipchoge explained how being patient is crucial for success at 26.2 miles.READ MORE
Mulumba Confident Bandari Can Begin Title Quest On A High Against Gor
MOMBASA, Kenya- Bandari FC Captain Felly Mulumba is confident that his teammates will deliver as they begin their quest to better their best ever league performance last season.Mulumba expressed belief in Bandari as they prepare to launch their SportPesa Premier League (SPL) campaign against Gor Mahia FC at Mbaraki Sports Club at 3PM (+3 GMT) on Saturday, December 8.READ MORE
Mayweather, Nasukawa For New Year Exhibition Bout In Japan
LOS ANGELES, United States- Boxer Floyd Mayweather says his New Year's Eve bout with Japanese kickboxer Tenshin Nasukawa will be "all about the entertainment".The nine-minute exhibition in Japan will have no official winner or loser if it goes the distance, and Mayweather said at a press availability at his training base in Las Vegas on Thursday that he was looking forward to the event as a chance to sample "something different".READ MORE
Why Fred Not Getting Playing Time At United, Mourinho
MANCHESTER, United Kingdom- Jose Mourinho suggested Friday that Manchester United must get stronger defensively before he is ready to give Fred more games.United spent £52 million ($66 million) on buying the Brazil midfielder from Shakhtar Donetsk in June but he has made just six Premier League starts.READ MORE
Kenya Seek Revenge On Uganda At Nairobi's FIM Motorsport
NAIROBI, Kenya- Uganda Motocross team arrived in the country on Friday ready for the the second leg of the Fédération Internationale de Motocyclisme (FIM) Central Africa Motorsport challenge at Jamhuri Park in Nairobi this weekend.The opponents are led by captain, Maxime Van Pee, who is optimistic that their team of 40 riders will outshine Kenya in the return leg after winning the opening round of the championship they hosted in Busika,Kampala, early in the year.READ MORE