Ten-Tacticians Benefit From Hull City 'Coaches To Count On' Training In Kenya
10th May 2019 - by Louis Kalinga
The coaches trained were selected based on a course being offered by Football Kenya Federation since 2016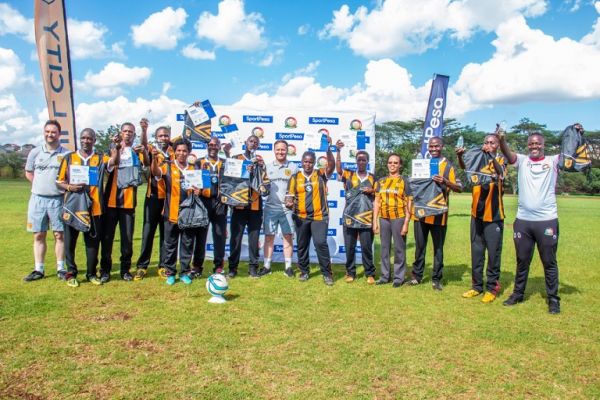 SUMMARY
Ten local coaches benefited from a three-day football training held by officials from English Championships side, Hull City FC at the Kenya School of Monetary Studies(KSMS) in Nairobi
Achieng was optimistic that the skills acquired will help her team to bag a fourth title in the ongoing Kenya Women Premier League
Harambee Starlets coach David Ouma who was impressed with the initiative was grateful for the opportunity to bring experts to help achieve and develop football in Kenya
NAIROBI, Kenya- Ten local coaches benefited from a three-day football clinic held by elite coaches from English Championships side, Hull City FC at a local institute in Nairobi.

The initiative dubbed 'Coaches to Count On' was organized by business and technology firm SportPesa and is aimed at improving the standards of the game across Africa.
"I'm thankful for this rare opportunity, I have acquired new skills which will help my team to get back to winning ways.
READ ALSO: Hull City Academy 'Coaches To Count On' Clinic Sets Off In Nairobi
"I hope to attend more of these sessions in the future," Thika Queens head coach Benta Achieng underlined.
Achieng was optimistic that the skills acquired will help her team to bag a fourth title in the ongoing Kenya Women Premier League.
The coaches trained were selected based on a course being offered by Football Kenya Federation since 2016. Seven male and three female from across the country qualified for the training.
READ ALSO: Champions Gor Host Sofapaka In Top Of The Table Clash, Leopards Away At Sony
"This program is meant to impart knowledge to local teams through their coaches who engaged in the workshop.
"It's our firm belief that this effort will take the game to the next level," SportPesa Marketing Operations Manager Patricia Munyororo, who graced the closing ceremony on Thursday, underscored.
Hull City academy coach Richard O'Donnell who took the participants through the exercises believes Kenya has talent which the program is striving to unearth.
READ ALSO: Pierre-Eme-Hattrick! Aubameyang Treble Sweeps Arsenal To Europa League Final
"From this seminar, the coaches we have trained will be able to understand some of the challenges that the players undergo and will be able to empower and mentor them," O'Donnell highlighted.
"We now understand the environment better since we've been here before and would love to come back to share more on football cultures," he added.
Harambee Starlets coach David Ouma who was impressed with the initiative was grateful for the opportunity to bring experts to help achieve and develop football in Kenya.
READ ALSO: Wanga Closes In On SPL Golden Boot, Tusker Thrash Sinking Mt. Kenya
SportPesa has held several such clinics before in collaboration with English Premier League partners Arsenal FC, Southampton FC and Hull City FC.
Through the 'Coaches to Count On' initiative, Arsenal tacticians were able to conduct clinics in South Africa between April 8 to 10 as Southampton FC officials concluded their session in Tanzania last week.
-Anthony Mwaki contributed in this article