Tanzanian Media Smashes Kenya In Pre SportPesa Cup Friendly
21st January 2019 - by Louis Kalinga
The tournament runs until Sunday, January 27 with the ultimate winner getting the once in a lifetime opportunity to play a match against English Premier League's Everton FC, right in their own backyard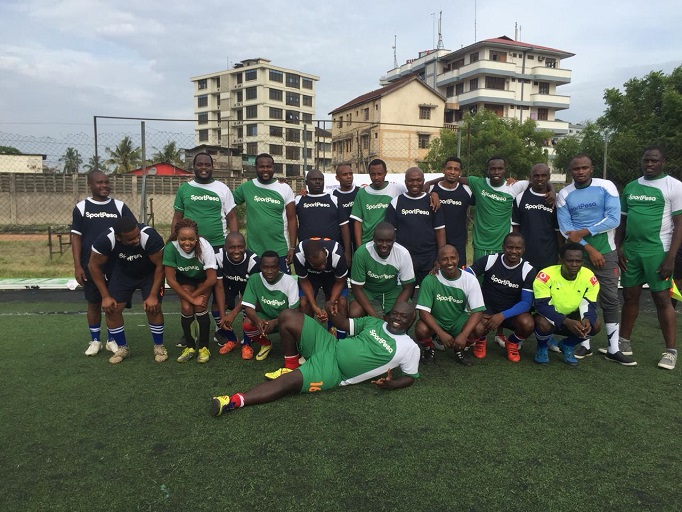 SUMMARY
Tanzania drew first blood in the 2019 SportPesa Cup football festival when their journalists buried the visiting news staff from Kenya in a 7-2 goal avalanche during a friendly played at the eve of the tournament proper on Monday
Following the match played in the spirit of banter, local scribes hailed the result as a precursor of what will befall teams from Kenya led by two-time SP Cup titleholders, Gor Mahia FC, AFC Leopards SC, Kariobangi Sharks FC and Bandari FC
Simba SC, Yanga SC, Singida United FC and debutants Mbao FC will be flying the Tanzanian flag at the eight-team invitational tournament

DAR-ES-SALAAM, Tanzania- Tanzania drew first blood in the 2019 SportPesa Cup football festival when their journalists buried the visiting news staff from Kenya in a 7-2 goal avalanche during a friendly played at the eve of the tournament proper on Monday.
Following the match played in the spirit of banter, local scribes hailed the result as a precursor of what will befall teams from Kenya led by two-time SP Cup titleholders, Gor Mahia FC, AFC Leopards SC, Kariobangi Sharks FC and Bandari FC when action gets underway at the National Stadium in Dar on Tuesday.
On the other hand, their Kenyan rivals immediately declared the result 'null and void' dismissing the outcome was the only result the hosts will enjoy during the competition that closes on Sunday.
Simba SC, Yanga SC, Singida United FC and debutants Mbao FC will be flying the Tanzanian flag at the eight-team invitational tournament and judging by what transpired, they have a thing or two to learn from the men and women who stand behind cameras, microphones and notebooks.
The match was played at the Karume Grounds, also where the Tanzanian Football Federation is located and it got off to a flying start, with Samuel Thuku putting the visitors ahead with a ferocious strike into the top corner.
The lead was short-lived and the home side responded well with an equalizer five minutes later, followed by two goals in quick succession for a 3-1 lead.
With three minutes to go in the first half, the Tanzanian media got another goal, making it 4-1 and the referee blew the whistle for half-time, with the score telling a story of its own about which way it was going.
Opening fixture
The second half began with as much enthusiasm as the first had stopped, with the hosts coming close yet again from a wild effort from way out, but he bounce favored the Kenyan goalkeeper.
Moments later, Louis Kalinga pulled a goal back for the visitors, offering slight hope of there being a way back into the game for his team.
But it was just not to be for the Kenyan journalists who then conceded three more goals, the final score 7-2 to the hosts.
Despite the loss, both teams posed for photographs and engaged in light talk about the kick-off of the highly anticipated SportPesa Cup, with Kenyan side Bandari FC taking on Tanzania's Singida United in the opening fixture at 2PM.
Right after, Tanzanian Premier League leaders Yanga SC will battle it out against Kariobangi Sharks FC in the 4:15PM encounter, one that has the billing to be arguably the match of the day.
The tournament runs until Sunday, January 27 with the ultimate winner getting the once in a lifetime opportunity to play a match against English Premier League's Everton FC, right in their own backyard.