Sumgong In-Law, Tokyo 2017 Champ Chepchirchir Suspended For Doping
Feb 11 - by Mutwiri Mutuota for SportPesa News
AIU also announces two other Kenyan runners, Samsom Mungai and James Mwangi have also been provisionally banned after returning positive results for banned substances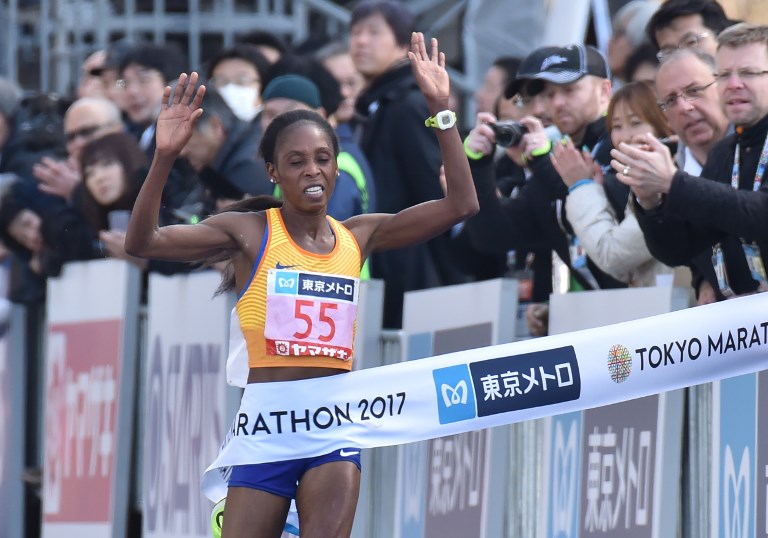 According to the Athletics Integrity Unit, Chepchirchir has been charged with use of a prohibited substance/method in contravention of Article 2.2 of the anti-doping rules and has been provisionally suspended from competition alongside compatriots Samson Mungai Kagia and James Mwangi Wangari
Chepchirchir, who had a tremendous breakthrough performance of 2:19:47 to win the 2017 Tokyo World Marathon Majors race, is a sister to Noah Talam the husband of banned Olympic champion Jemimah Jelagat Sumgong
NAIROBI, Kenya- The 2017 Tokyo Marathon women's champion, Sarah Chepchirchir, has become the latest high profile Kenyan distance runner to be suspended from competition for doping.
According to the Athletics Integrity Unit, Chepchirchir has been charged with use of a prohibited substance/method in contravention of Article 2.2 of the anti-doping rules and has been provisionally suspended from competition alongside compatriots Samson Mungai Kagia and James Mwangi Wangari.
MUST READ: Olympic Champion Sumgong Slapped With Record 8 Year Ban
"The AIU has Provisionally Suspended Kenyan long-distance runner Sarah Chepchirchir with immediate effect for violation of the IAAF anti-doping rules," the AIU tweeted on Monday morning.
Mungai and Mwangi have been suspended from the sport after prohibited substances; Methylprednisolone and Testosterone were found in their systems in that order in contravention of Article 2.1 of the IAAF rules.
Sumgong in-law
Chepchirchir, who had a tremendous breakthrough performance of 2:19:47 to win the 2017 Tokyo World Marathon Majors race, is a sister to Noah Talam the husband of banned Olympic champion Jemimah Jelagat Sumgong.
MUST READ: China President Jinping 'Hates Doping', Sounds Beijing Winter Olympics Warning
AIU confirmed that Rio 2016 champion and 2016 London winner Sumgong will serve an eight-year ban from the sport last month, the joint-longest punishment handed down to a Kenyan runner after little known Lillian Mariita was suspended for the same period by the United States Anti-Doping Agency in 2016.
Talam was coaching the Sumgong group that included her sister-in-law Chepchirchir at the Stanley Biwott and Rosa Associates Training Camp in Kapsabet that established itself as the top female marathoner factory in the world before it all unravelled following the damaging doping cases.
MUST READ: IAAF Maintains Decision On Russia's Athletics Ban