Stars AFCON Fate Hangs On Ethiopia, Sierra Leone Appeal Fails
Oct 09 - by Mutwiri Mutuota for SportPesa News
FIFA declines to lift Group F rivals suspension over government interference, give West Africans Tuesday deadline to accept conditions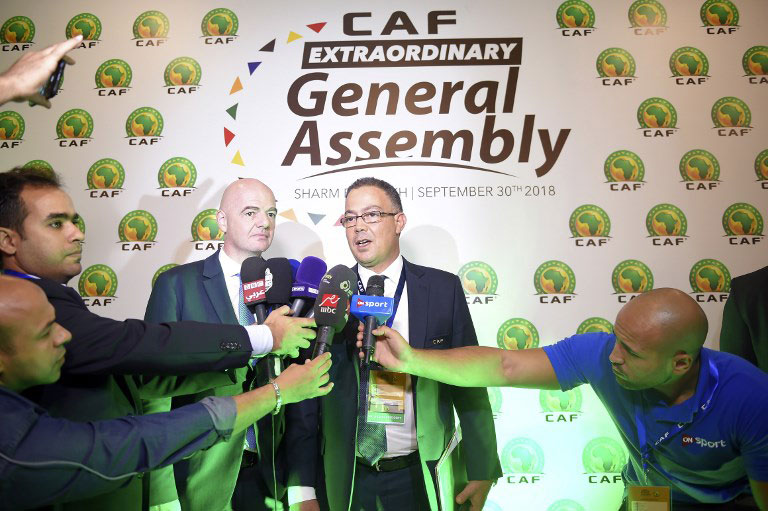 FIFA suspended Group F rivals, Sierra Leone who beat Stars 1-2 in Match Day one of Group F in June last year on Friday due to government interference in the running of the sport in the west African country
The ruling council of world football's governing body acted after Sierra Leone's anti-corruption commission (ACC) declared that SLFA president Isha Johansen and general secretary Christopher Kamara must leave their posts until an on going corruption case is concluded
FIFA gave Sierra Leone a Tuesday deadline to accept the conditions or their AFCON qualifier away to Ghana organised under the auspices of Confederation of African Football on Thursday will not take place
ELDORET, Kenya- Harambee Stars quest to make the 2019 Africa Cup of Nations finals hinge on their results against Ethiopia for now after world governing body FIFA rejected Sierra Leone's request to lift their international suspension on Tuesday.
Stars take on the Walya Antelopes on Tuesday in Wednesday in Bahir Dar with the remaining 17 players called up for the assignment arriving in Ethiopia on Monday to link up with the five who travelled with head coach, Sebastian Migne on Saturday.
FIFA suspended Group F rivals, Sierra Leone who beat Stars 1-2 in Match Day one of Group F in June last year on Friday due to government interference in the running of the sport in the west African country.
Kenya recovered to stun favourites and three time champions Ghana 1-0 in Nairobi on September 8 to ignite their qualification hopes but on Monday, Sierra Leone Football Association (SLFA) appealed to FIFA to lift their ban offering to send a delegation from government and the federation to its Zurich headquarters to resolve the standoff.
The ruling council of world football's governing body acted after Sierra Leone's anti-corruption commission (ACC) declared that SLFA president Isha Johansen and general secretary Christopher Kamara must leave their posts until an on going corruption case is concluded.
However, in a letter sent to SLFA, FIFA insisted the ban would only be lifted if the country's authorities hand control of the game back to the federation unconditionally.
"In this context, we would like to remind you that in its decision dated 5 October 2018 to suspend SLFA with immediate effect, the Bureau of the Council specified that the suspension will only be lifted once the SLFA and its recognised leadership have confirmed to FIFA that the administration, premises, accounts and communications are under their control once again.
Wanyama services
"Consequently, as long as this condition has not been met, the suspension remains in place," the FIFA letter reiterated.
FIFA gave Sierra Leone a Tuesday deadline to accept the conditions or their AFCON qualifier away to Ghana organised under the auspices of Confederation of African Football on Thursday will not take place.
Should the West African country fail to meet FIFA's directive, the game will be considered forfeited giving Stars a huge qualification boost should they beat Ethiopia in Bahir Dar.
Prior to the suspension, Group F of AFCON qualifying was a tight affair, with all four teams on three points after two rounds of matches, with Ghana leading on goal difference from Stars ahead of Sierra Leone and Ethiopia.
Without Sierra Leone in the picture, Stars need to clinch at least a second finish in the group to return to the expanded 24-team AFCON finals, tentatively in Cameroon for the first time since their first round exit from the competition at Tunisia 2004.
Migne will employ the services of Stars captain, Victor Wanyama, for the first time in his tenure after the Tottenham Hotspur FC midfielder recovered from knee injury that ruled him out of the Ghana clash as he regained match fitness.
Japan-based striker, Michael Olunga, who forced Black Stars defender Nicholas Opuku to turn the ball into his own net in the 40th minute of their 1-0 victory at the MISC, Kasarani also linked up with the side on Monday.
Kenya welcome Ethiopia to Nairobi for their double header on Sunday where a minimum of four points from the two games will place Migne's side in a good position to make the 2019 finals.