Soyas 2018: Decorated Giants Lead 12 School Team Of The Year Nominees
Dec 19 - by SPN Correspondent for SportPesa News
East Africa and domestic champions dominate the list that features 12 candidates for the first time as the countdown to the 15th edition of the black tie gala in Mombasa continues to toll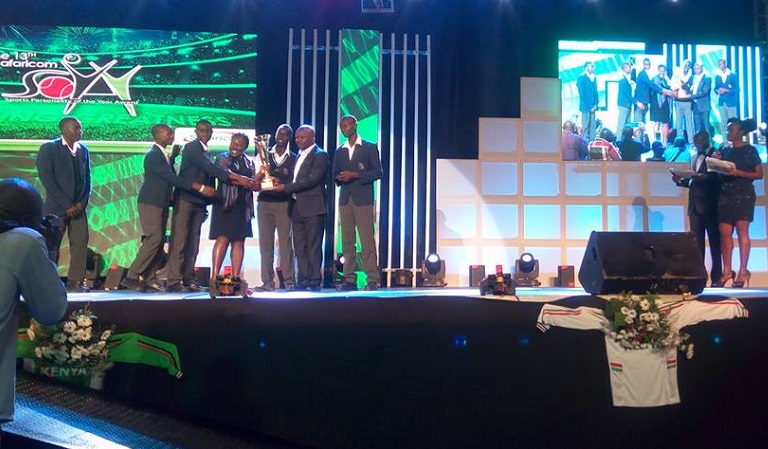 For the first time, the nominee list has been expanded to 12 where titans Laiser Hill, Upper Hill, Kakamega High, Olbolsat, Sigalame, St. Antony Boys, Malava, Kakenyeloi, St. Lukes' Kimilili, Musingu, Kanyawanga and Menengai schools made the cut
Football powerhouse Kakamega's Green Commandoes who play in the second tier National Super League proved their enduring class when they clinched their 13th title in Eldoret finishing third in Rwanda
The County Government of Mombasa, National Social Security Fund, Communication Authority of Kenya, Kenya Pipeline, GOtv, LapFund, New KCC, Kenya Ports Authority, Kenya Power, Sports Station and Protel Studios

NAIROBI, Kenya- Decorated giants are among institutions that will vie for the Boys' School Team of the Year prize during the 15th Safaricom Sports Personality of the Year Awards (Soyas) set for January 11 in Mombasa.
For the first time, the nominee list has been expanded to 12 where titans Laiser Hill, Upper Hill, Kakamega High, Olbolsat, Sigalame, St. Antony Boys, Malava, Kakenyeloi, St. Lukes' Kimilili, Musingu, Kanyawanga and Menengai schools made the cut.
Having fielded teams in various disciplines during the national and East Africa (EA) competitions held in the first and second terms of the domestic sturdy calendar, the candidates performed commendably to earn their inclusions as they played a role in Kenya retaining the overall regional crown.
Laiser were crowned the basketball champions at the national Term One games held in Kangaru School, Embu, beating newbies Sigalame High who went on to finish seventh at the regional games. 
In addition, their rugby sevens team reclaimed their domestic title at the finals held at Eldoret's Hill School before clinching the EA title in Rwanda.
Nairobi rivals Upper Hill bagged both the Kenya and regional titles in rugby 15s having sunk Menengai in sudden death in Eldoret with their hockey and football under-16 teams also advancing to the national finals. 
Football powerhouse Kakamega's Green Commandoes who play in the second tier National Super League proved their enduring class when they clinched their 13th title in Eldoret finishing third in Rwanda.
Their rugby 15s counterparts collected the bronze and silver medals in football and the latter in that order.
Kakamega beat Olbolsat at the football under-19 national finals, the latter making their debut at this stage and booking a ticket to the EA games on their first attempt.
Another debutant, Kapkenyeloi, make the cut having qualified for the national games for the first time and made the finals where they lost to Malava in Volleyball. The latter picked Bronze at the EA competitions.
Meanwhile, Kimilili beat Kanyawanga in handball at the national finals to reclaim the trophy they lost last year but a fifth-place finish dashed their hopes of clinching the double in Rwanda.
St. Antony make the list as the national and EA hockey champions alongside Musingu who also excelled at the same sport.
The County Government of Mombasa, National Social Security Fund, Communication Authority of Kenya, Kenya Pipeline, GOtv, LapFund, New KCC, Kenya Ports Authority, Kenya Power, Sports Station and Protel Studios.