Sorry Kenya, The SportPesa Cup Will Not Leave Tanzania- Fans
11th January 2019 - by Mutwiri Mutuota
Diehard supporters tip a home side to end the three year heartache and snatch the trophy from two-time champions Gor Mahia when the regional club showpiece kicks off from January 22 in Dar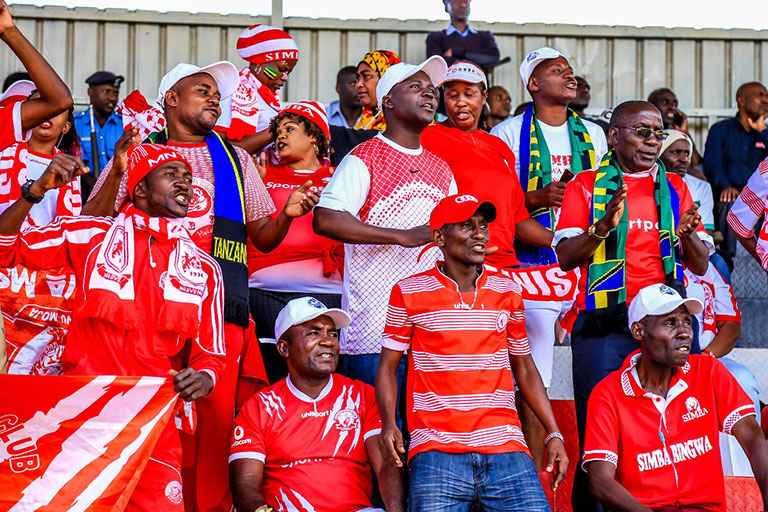 SUMMARY
Having seen the might of their teams blunted by two-time winners, Gor Mahia FC of Kenya, devoted fans in the football mad city are exuding confidence one of their beloved teams will host English Premier League side Everton FC later this year by winning the eight-team regional invitational tournament on home soil
A spot check by SportPesa News in Dar during the final countdown to the 2019 edition saw local tip a home team to end Tanzania's SP Cup heartache with 2018 beaten finalists, Simba SC, Vodacom Premier League leaders, Yanga SC, Singida United FC and newcomers Mbao FC fighting for the trophy in their corner
DAR-ES-SALAAM, Tanzania- The palpable feeling that this is the year when the SportPesa Cup will be lifted by a Tanzanian team is sweeping across Dar-es-Salaam ahead of the third showdown that will run in the commercial capital from January 22 to 27.
Having seen the might of their teams blunted by two-time winners, Gor Mahia FC of Kenya, devoted fans in the football mad city are exuding confidence one of their beloved teams will host English Premier League side Everton FC later this year by winning the eight-team regional invitational tournament on home soil.
A spot check by in Dar during the final countdown to the 2019 edition saw local tip a home team to end Tanzania's SP Cup heartache with 2018 beaten finalists, Simba SC, Vodacom Premier League leaders, Yanga SC, Singida United FC and newcomers Mbao FC fighting for the trophy in their corner.
Two-time winners and holders Gor Mahia FC, domestic cup champions Kariobangi Sharks FC, AFC Leopards SC and debutants Bandari FC who finished the last SportPesa Premier League season second are the potent quartet from across the body seeking to retain the trophy in Kenyan hands.
Below is a sample of the responses from the walkabout in Dar where the anticipation is building up a storm as kick-off to the battle between Tanzania and Kenya in club football fast approaches.
Simba SC
Simon Ndhari -Coffee vendor
Ukiangalia mashindano yaliyopita kikosi chetu kilikuwa hakijakamilika kule Nakuru kwasababu baadhi ya wachezaji tegemeo kama vile Okwi, Kotei na wengine wengi wa kikosi cha kwanza hawakuwepo. Siwezi kusema wachezaji wengine ni wabaya lakini ndio maana ya kuwa na kikosi cha kwanza na akiba.
Huu mwaka hatuachi kitu, tumeanza na Ligi Kuu, tumetinga makundi CAF na sasa tunataka kucheza na Everton nyumbani.
If you look at the last competition, our team was not sturdy enough in Nakuru because some of the dependable players such as (Emmanuel) Okwi, (James) Kotei and other first 11 stars were missing. I can't say the rest of the squad has bad players and that is the reason you have a first 11 and reserve teams.
This year, we are not leaving anything to chance. We have started our league season and made the group stages of the CAF Champions League and our wish now is to play Everton at home.
Iddy Shaban -Shoe shiner
Mwaka huu itabidi wapinzani wetu watusamehe tu kwasababu kwasasa Simba tupo vizuri sana. Tuna kikosi kipana kinachoweza kucheza mashindano ya aina mbili kwa wakati mmoja na uzuri ni kwamba tutacheza kwenye uwanja wetu wa nyumbani tuliouzoea na ningetamani kama tukutane na Gor Mahia ili Kagere awafunge.
Our rivals have no choice but to forgive us this year because we are sizzling at the moment. We have a deep squad that can compete in two competitions at the same time and we also have the advantage of playing at our home stadium.
My wish is we meet Gor in the final so that (Meddie) Kagere can score against his old team.
Yanga SC
Juma Rajabu -Bus conductor
Mwaka huu mashindano yanachezwa kipindi ambacho Ligi bado zinaendelea kwahiyo kwanza tuna uhakika wa timu yetu kupeleka kikosi cha kwanza mashindanoni na unajua kikosi chetu msimu huu kilivyokuwa cha moto kwasababu sisi ndio tunaongoza Ligi.
Nilikuwepo Nakuru mara ya mwisho tunafungwa na wale Kakamega (Homeboyz) kwakweli tulijisikia vibaya sisi kama mashabiki kwasababu tuliacha shughuli zetu tukasafiri safari ya mbali. Lakini huo ndio mpira, unapopata nafasi nyingine unaitumia kufuta machungu na sisi tumejipanda kutumia nafasi hii kufuta machungu.
This year, the tournament is happening in the middle of our league campaign and therefore, we shall field our first squad and as you are aware, our team has been on fire since we are leading the stadings.
I was in Nakuru for the last tournament where Homeboyz beat us and it pained since we had left our daily chores to travel far in support of our team.
That is football and if you get another opportunity, you make it count by erasing the heartache and we are planning to use this chance to end the pain.
Ally Mwampamba -Shop keeper
Hatutakubali kuona Everton wanakuja Afrika Mashariki halafu wanaishia kucheza na timu nyingine kama ilivyokuwa mara ya kwanza.
Sisi tunaongoza ligi, mshambuliaji wetu ndio anaongoza kwa kupachika mabao (Heritier Makambo) na hatujapoteza mechi ya Ligi hadi sasa hivyo tuna kila sababu ya kufanya vizuri safari hii kwasababu kutakuwa hakuna kisingizio kama ilivyokuwa miaka miwili iliyopita.
We shall not accept to watch Everton travel to East Africa and end up playing another team like during the first edition of the Super Cup here.
We are the league leaders, our striker is the top scorer and we remain unbeaten this far and that is motivation to perform well this time around. We have no excuse like two years ago.
Mbao FC
Yassin Maghembe -College Student
Tunafurahi kuona timu yetu ya nyumbani ikipata fursa ya kushiriki mashindano ya kimataifa kwa mara ya kwanza na tunaamini vijana wetu wataitumia hiyo fursa vilivyo.
Mwaka 2016 tulikaribia kucheza mashindano ya kimataifa lakini tukafungwa fainali ya Azam Confederation Cup na Simba na ndoto yetu ikaishia hapo lakini bado hatujakata tamaa.
Sisi ni wabishi na tukiamua kukung'ang'ania basi tunakung'ang'ania kweli na ndio maana nawatahadharisha Gor Mahia kwamba wajipange wasije kutuchukulia poa na kama wanabisha wawaulize Simba au Yanga wakijaga huku Mwanza huwa tunawafanya nini.
We are pleased to see our side get such a huge opportunity to feature in an international competition for the first time and we are hopeful our lads will use the chance well.
In 2016, we came close to playing in international competition but we lost the Azam Confederations Cup final to Simba and although our dream was cruelly cut short, we have never lost hope.
We are competitive and if we decide to vie for it, we shall vie for it well and that is why I'm warning Gor to be prepared for a battle. They should seek from Yanga and Simba what happens to them whenever they face us in Mwanza.
Singida United FC
Shomari Kitwana – School Teacher
Singida tuna kikosi kizuri japo bado hatujapata matokeo mazuri kwenye Ligi, lakini tuna wachezaji wengi wapya kwenye kikosi chetu wenye uwezo mkubwa na ukichanganya na wale waliokuwepo basi tunaamini mambo yatakuwa mazuri.
Tunajua Bandari ni timu nzuri sana na inafundishwa na kocha ambaye alikuwa kipenzi cha mashabiki wakati akichezea Yanga (Ben Mwalala) lakini sisi tutapigana kufa na kupona kuhakikisha tunalinda heshima ya Tanzania kwenye amshindano haya.
We have a good team at Singida but the results have not been encouraging in the league notably because many in the squad are new but if we mix them with the experienced, we can force good results.
Bandari are a good side, we are aware of that and their coach, Bernard Mwalala was a favourite during his playing time at Yanga but we shall battle until the end to defend Tanzania's honour in this competition.
-Mutwiri Mutuota contributed to this report