Shujaa Set For Safari 7s Title Defence On Coach Murunga Debut
Nov 07 - by Erick Ochieng for SportPesa News
Annual invitational tournament returns to its spiritual home of RFUEA Grounds with Kenya facing Namibia Pool A challenge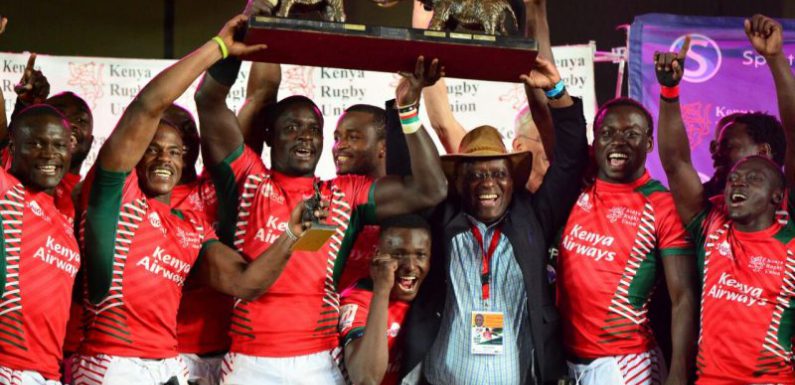 The national rugby sevens team will open their campaign against Stanbic Mwamba, who finished second overall in the 2018 Stanbic Bank National Sevens Circuit Series in September, at 11.50am local time (+3GMT) on Saturday
In a statement on Thursday, organisers Kenya Rugby Union also declared 12 sides divided into three pools, down from 16 will vie for the Robin Cahill Trophy this year
National women's Kenya Lionesses head coach, Kevin Wambua, will manage the second string Morans who will be led by Samuel Motari of Resolutions Impala Saracens RFC
NAIROBI, Kenya- Kenya Harlequin RFC scrumhalf Eden Agero will captain Shujaa in their 2018 Safari 7s title defence at the annual invitational competition returns to the RFUEA Grounds in Nairobi this weekend.
The national rugby sevens team will open their campaign against Stanbic Mwamba, who finished second overall at the 2018 Stanbic Bank National Sevens Circuit Series in September, at 11.50am local time (+3GMT) on Saturday in a competition where head coach Paul Murunga will make his competitive debut with the side.
Mwamba were drafted into the international competition after Burkina Faso who had earlier been slotted in pulled out.
In a statement on Thursday, organisers Kenya Rugby Union also declared 12 sides divided into three pools, down from 16 will vie for the Robin Cahill Trophy this year.
"The teams will then be reseeded at the close of day one with the top eight finishers qualifying for the cup quarters," KRU underlined.
"Kenya Police Service will deploy officers from different branches of the service pre and post event to tighten security," the federation added.
Namibia and Apache from United Kingdom round of Pool A alongside the holders and Mwamba following the draw.
Homeboyz RFC winger Michael Wanjala will assist Agero as Murunga seeks to get his Shujaa tenure off to a winning start since taking charge last month (October 5).
The former Homeboyz boss was hired after KRU opted to advertise for the role following the expiry of the contract of his predecessor and former Shujaa captain, Innocent 'Namcos' Simiyu who led Shujaa for the past two seasons.
Morans charge

Herman Humwa, Alvin Otieno, Harold Anduvate, Johnstone Olindi, Daniel Taabu, Mark Wandetto, Charles Omondi, Dennis Ombachi, Cyprian Kuto and Leonard Mugaisi are also in Murunga's maiden line-up.

National women's Kenya Lionesses head coach, Kevin Wambua, will manage the second string Morans who will be led by Samuel Motari of Resolutions Impala Saracens RFC.
Brian Wahinya, Eliakim Kichoi, Timothy Mmasi, Brian Wandera, Mark Kwemoi, Gregory Ochieng, Shaddon Munoko, Paul Mutsami, Ronnie Omondi, Vincent Onyala and Eric Ombasa complete the Moran roster.
Lamech Bogonko will be the physiotherapist for the Kenyan sides. HSBC Sevens World Series core side Spain are seeded second in the tournament after Shujaa.
Spain will headline Pool B, which also features 2015 champions, Samurai International, Red Wailers and Emerging Uganda.
Portugal, who arrived in the country at 4am on Wednesday, are in Pool C with two time African champions, Uganda and home sides Morans and Menengai Cream Homeboyz RFC who won the local sevens circuit.
Samurai, that has six Kenyan players including Oscar Ouma (Nakuru), Oscar Dennis (Harlequins), Augustine Lugonzo and Tony Owuor (Homeboyz) and Patrice Agunda and Frank Wanyama (Kenya Harlequin) will open the competition when they take on the Red Wailers at 10am on Saturday.
The 21st edition of Safari Sevens returns to the venue located along Ngong Road after a eight-year hiatus after plans by the Union to use a larger stadium in a bid to use the event to push for Kenya to be granted a leg of the HSBC World Series.
However, dwindling fan numbers, loss of revenue and lack of budget to fund the venture to join the World Series informed their decision to revert the tournament back to its spiritual home.
Safari Sevens Pooling
Pool A: Shujaa, Namibia, Apache, Stanbic Mwamba
Pool B: Spain, Samurai, Red Wailers, Emerging Uganda
Pool C: Portugal, Uganda, Morans, Menengai Cream Homeboyz
Safari Sevens Order of Play (all time +3GMT)
Saturday (November 10)
Pool B: Samurai v Red Wailers: 10.00am
Pool B: Spain v Emerging Uganda: 10.22am
Pool C: Uganda v Morans: 10.44am
Pool C: Portugal v Menengai Cream Homeboyz: 11.06am
Pool A: Namibia v Apache: 11.28am
Pool A: Shujaa v Stanbic Mwamba 11.50am
BREAK
Pool B: Samurai v Emerging Uganda: 1.00pm
Pool B: Spain v Red Wailers: 1.22pm
Pool C: Uganda v Menengai Cream Homeboyz: 1.44pm
Pool C: Portugal v Morans: 2.06pm
Pool A: Namibia v Stanbic Mwamba: 2.28pm
Pool A: Shujaa v Apache: 2.50pm
BREAK
Pool B: Red Wailers v Emerging Uganda: 4.00pm
Pool B: Spain v Samurai: 4.22pm
Pool C: Morans v Menengai Cream Homeboyz: 4.44pm
Pool C: Portugal v Uganda: 5.06pm
Pool A: Apache v Stanbic Mwamba: 5.28pm
Pool A: Shujaa v Namibia: 5.50pm