Shujaa Overpower France, Miss Out On Cup Quaterfinals
Jan 26 - by Erick Ochieng for SportPesa News
Kenya 7s fail to make last eight for the third successive time in New Zealand, to face Tonga in Challenge Trophy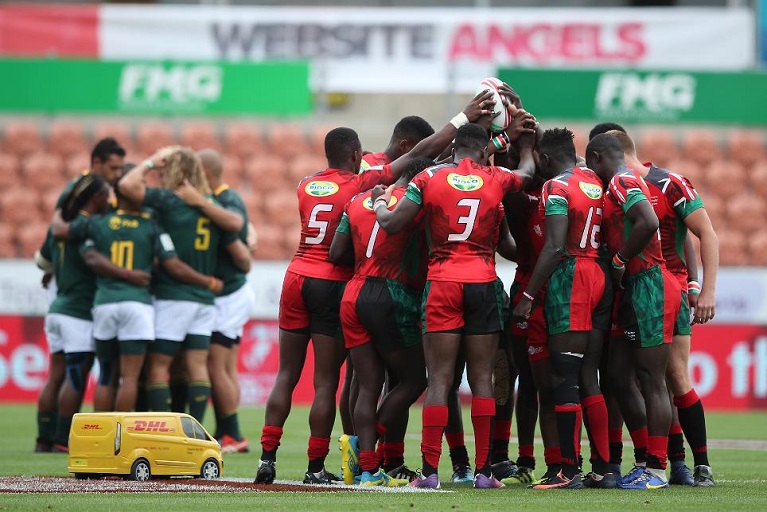 Kenya Shujaa beat France 19-15 to finish third in Pool C in the third leg of the 2018/2019 HSBC World Rugby Sevens Series

 

in Hamilton, New Zealand on Saturday morning

France hit back in the fifth through Nisie Huyard who made a good solo move from the midfield to level 5-5 for the oponents.Vincent Onyala took Kenya's lead to 12-5 with a converted try in the seventh before half time

 

France ended the contest at the basement with three points and no victory.South Africa and Scotland who finished first and second with six points apiece proceeded to the Main Cup quarterfinals

Kenya is currently ranked 14th in the series with four points while South Africa tops the the standings with 38 after the Dubai and Cape Town circuits held in December
HAMILTON, New Zealand- Kenya Shujaa beat France 19-15 to finish third in Pool C in the third leg of the 2018/2019 HSBC World Rugby Sevens Series  in Hamilton, New Zealand on Saturday morning.
The victory came late as the team lost 10-29 and 10-19 to South Africa and Scotland in the earlier matches meaning Kenya missed out on the tournament knock-out stage.
Captain Jacob Ojee put Shujaa 5-0 ahead in the second minute with a try made following a cool run in the left flank.
READ MORE:Soyas 2018: Lionesses On The Hunt To Retain Team Of The Year Crown
France hit back in the fifth through Nisie Huyard who made a good solo move from the midfield to level 5-5 for the opponents.Vincent Onyala took Kenya's lead to 12-5 with a converted try in the seventh before half time.
Daniel Tabu was onfire on resumption widening Kenya's tally to 19-5.France found Kenya's back line in the 13th and  14th through Remi Sieha and Joseph Yobo who all made their tries with clean short runs on the far left wing to reduce the deficit to 19-15 before the whistle.
 France ended the contest at the basement with three points and no victory.South Africa and Scotland who finished first and second with six points apiece proceeded to the Main Cup quarterfinals.
READ MORE: Ojee Honored To Be Shujaa Captain For Hamilton, Sydney 7s Legs
Kenya is currently ranked 14th in the series with four points while South Africa tops the the standings with 38 after the Dubai and Cape Town circuits held in December.
Shujaa Squad to Hamilton 7s
Jacob Ojee – ©(KCB) Michael Wanjala – Vice Captain (Menengai Cream Homeboyz),Cyprian Kuto(Menengai Cream Homeboyz), Vincent Onyala(KCB), Brian Wahinya(Blakblad), Brian Wandera(Menengai Cream Homeboyz), Daniel Taabu(Stanbic Mwamba), Johnstone Olindi(Menengai Cream Homeboyz), Bush Mwale(Menengai Cream Homeboyz), William Reeve(Kenya Harlequins), Eliakim Kichoi(Stanbic Mwamba), Harold Anduvate(Menengai Oilers), Mark Wandetto(Menengai Cream.