Shujaa Let Advantage Slip In Opening Paris 7s Draw With Australia
1st June 2019 - by Mutwiri Mutuota
Relegation-threatened Kenya concede late Matt Hood try in dramatic Pool B opener that ends 19-19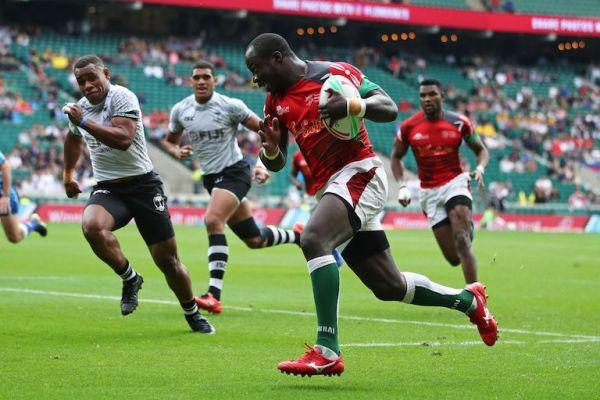 SUMMARY
It was an unbelievable end to this match when Matt Hood scores to put the Aussies back on level terms and the conversion is missed by Lewis Holland. Kenya then went for a drop goal at the death from about 45 metres out and just put it wide as the teams shared the spoils
Kenyan fans went wild in the second half when Bush Mwale put Shujaa 19-14 up with a gem of a try. He slipped on the touch line but managed to get back on his feat to weave his way through the Australia line before dashing 25-metres to complete a wonderful try
NAIROBI, Kenya- Relegation-threatened Shujaa let the opportunity to open their Paris 7s charge with victory when they were forced to accept a 19-19 draw with Australia at the death in a dramatic Pool B encounter.
It was an unbelievable end to this match when Matt Hood scores to put the Aussies back on level terms and the conversion is missed by Lewis Holland. Kenya then went for a drop goal at the death from about 45 metres out and just put it wide as the teams shared the spoils.
MUST READ: Wounded Shujaa Must Better Japan In Paris To Avoid Shameful Relegation
Earlier in the same group, favourites South Africa Springboks got off to a winning start, beating Wales 22-7 with Shujaa facing the fancied side next at 4:10pm Kenyan time (+3GMT).
Paul Murunga's side that must finish ahead of Japan in the 10th and final leg of the 2018/19 HSBC World Sevens Series to avoid being relegated as a Core Team will close their Pool B assignments against Wales at 7:36pm.
Going wild
Kenyan fans went wild in the second half when Bush Mwale put Shujaa 19-14 up with a gem of a try. He slipped on the touch line but managed to get back on his feat to weave his way through the Australia line before dashing 25-metres to complete a wonderful try.
Four tries were scored in a racing first half that was edged by Australia when Lachie Anderson dotted down to give his team a two-point advantage.
MUST READ: Three Cleared To Vie For Sleeping SPL Giants Leopards Chairmanship