Shujaa Fight Back Falls Just Short In Challenge Trophy Quarters
Dec 09 - by Mutwiri Mutuota for SportPesa News
Argentina hand on to a 34-31 victory in a humdinger of a match in Day 2 of Cape Town 7s in South Africa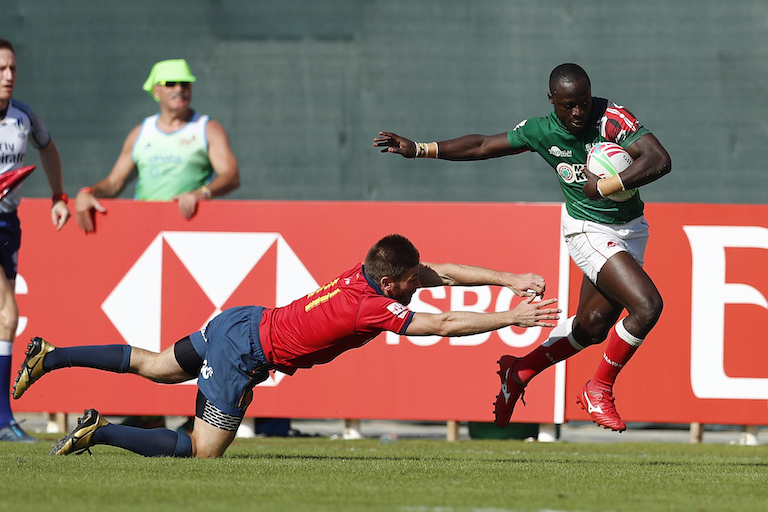 Shujaa who bagged only a point in the opening round of the 2018/19 HSBC World Sevens Series in Dubai lost their three pool matches in South Africa on Saturday to set up a meeting against the Pumas in the Challenge quarters
A hat trick of tries from Ignasio Mendy and further five pointers from Franco Sabato, Lautaro Bazan Velez and Gastol Revol saw Argentina prevail
Kenya kicked off the tournament with a 12-29 loss to England with their tries coming from Cyprian Kuto and Mugaisi and captain Eden Agero added one conversion
CAPE TOWN, South Africa- Kenya Shujaa mounted a spirited comeback but just fell short in their Challenge Trophy quarterfinal to go down 31-34 in a humdinger of a contest on day two of the Cape Town 7s on Sunday afternoon.
Shujaa who bagged only a point in the opening round of the 2018/19 HSBC World Sevens Series in Dubai lost their three pool matches in South Africa on Saturday to set up a meeting against the Pumas in the Challenge quarters.
A hat trick of tries from Ignasio Mendy and further five pointers from Franco Sabato, Lautaro Bazan Velez and Gastol Revol saw Argentina prevail.
Leonard Mugaisi, Alvin Otieno, Vincent Onyala and Johnstone Olindi crossed the whitewash for Paul Murunga's Shujaa who came close to pulling off an improbable comeback.
Kenya fell behind when everybody stopped as the referee played advantage for Argentina in attack -- including Sabato. But Mendy did not and he raced on for one of the easier -- and more bizarre -- tries he will ever get on the World Series.
Sabato too then broke through the right wing and was uncontested on his stride to the line for Argentina's second try for a 12-0 advantage.
The restart fell nicely for Argentina again, and as they worked the ball left for Revol to claim his first try of the weekend in the corner.
Sabato knocked back the restart, and Velez took off beating three or four defenders with several dummies before eventually offloading. The ball was handed back to him to sidestep his way through for a great try.
More work
Mendy then touched down again with his brace requiring slightly more work than his first, evading the final tackle but it never really looked like bringing him down before the whitewash as Argentina dominated.
With five seconds of the first half to go, Kenya had not made a pass and from a scrum they finally broke their duck.
Charles Omondi just about managed to cling onto a juggle on the right and Kenya worked the ball back across, and Mugaisi has a try in the corner.
From the restart, Mendy sealed his treble when he darted around the outside for his third of the match.
That was the cue for Shujaa to wake from their slumber and mount a resounding fight-back that fell only three points short in the end.
Otieno for Kenya's second by showing good strength to evade a tackle in midfield and run free to touch down beneath the posts.
A terrific dummy from Onyala who stepped inside the Argentine defence for a free run gave Shujaa hope with just over 90 seconds remaining before Olindi went over but it was not enough.
Kenya kicked off the tournament with a 12-29 loss to England with their tries coming from Cyprian Kuto and Mugaisi and captain Eden Agero added one conversion.
In their second Pool C encounter, Fiji went all out as they scored 38 points against a Shujaa side while conceding one try from Onyala and an Agero conversion.
The third match against France was a 12-19 loss, Otieno scoring twice as Agero successfully added one conversion.
Shujaa Cape Town 7s Day One Scores
England 29 – Shujaa 12
Fiji 38 – Shujaa 7
France 19 – Shujaa 12
Challenge Trophy QF
Argentina 34- Shujaa 31