Sebastian Migne Content With Draw, Urges Fans To Turn Up
Oct 11 - by Louis Kalinga for SportPesa News
Kenya will play Ethiopia in the return leg on Sunday at the Kasarani Stadium in Nairobi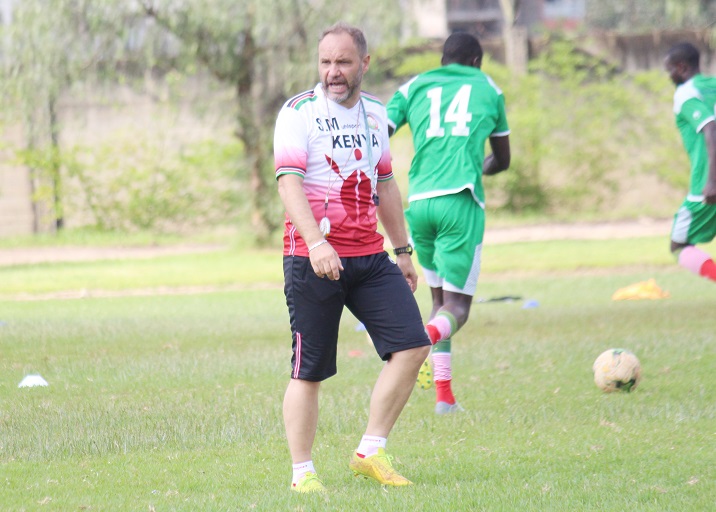 Harambee Stars played out to a barren draw away to Ethiopia at the Bahir Dar International Stadium
The point meant that Kenya are on top of Group F with four points, one ahead of Ghana and three ahead of Ethiopia
Ghana have played a game less following the ban on Sierra Leone due to government interference in the running of the sport in the West African country
ADDIS ABABA, Ethiopia- Kenya men's national football team head coach Sebastian Migne is content with the draw against Ethiopia and has called on Kenyans to show up in large numbers to support the team in the return leg on Sunday.
Harambee Stars played out to a barren draw away to Ethiopia at the Bahir Dar International Stadium, which was packed to capacity with over 65,000 fans in attendance for the Wednesday afternoon kick-off.
The point meant that Kenya are on top of Group F with four points, one ahead of Ghana and three ahead of Ethiopia and remain on course to qualify for the 2019 Africa Cup of Nations in Cameroon.
Ghana have played a game less following the ban on Sierra Leone due to government interference in the running of the sport in the West African country.
"We missed chances in the first half and it was difficult because they had so many fans in the stadium to add onto their home advantage," Migne told SportPesa News.
"We made some changes in the second half in search of a goal and the injury to my left-back, disrupted the plans I had prior to the game.
Harambee Stars were boosted by the return of captain and Tottenham Hotspur FC midfielder, Victor Wanyama, who missed the 1-0 wins over Ghana and Malawi last month due to an injury.
Pole position
Other foreign-based players such as 2015 Kenya Premier League Most Valuable Player, Michael Olunga, Eric Johanna, Brian Mandela and Aboud Omar were also part of the starting line-up.
"We deserved a draw, the second half was a bit better for Ethiopia and the referee waved away two penalty appeals for either side.
"We will try to win in the second leg at home, we will treat that game as a final and do all we can to win," the Frenchman stated.
"We are on the right track and I'm proud of my players for the hard work they have put in and I call on the home fans to come and support the team.
"My only wish is to have a full stadium on Sunday, it's amazing to play in such an atmosphere," Migne underlined.
However, Migne has chosen not to count his chicks despite being in pole position for qualification, as he understands there is still a lot to be done if Kenya are to break their AFCON jinx.
"It's not about one game; we have to focus on the bigger picture. There's a great attitude from the players now and that will be key as we look ahead to the upcoming fixtures," he concluded.