SOYAS 2018: Wakiihuri Grateful As Annual Event Get KSh3.7m (USD37,000) Boost
Jan 04 - by Erick Ochieng for SportPesa News
The former Commonwealth Games champion has appreciated the work being done to help recognise athletes who have excelled in their categories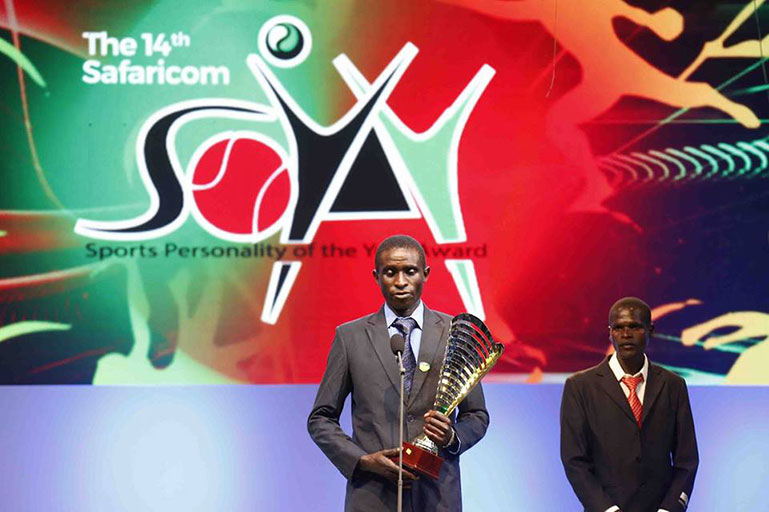 Former world marathon champion,Douglas Wakiihuri, has urged corporate to come forward and support various sports disciplines to help local athletes realise their dreams

Among the companies that have come on board are the Communication Authority of Kenya (CA) who injected KSh3 million (USD30,000) on Friday as SuperSport and MultiChoice Kenya gave out KSh750,000 (USD8000) support

Other sponsors on board include Safaricom Limited, Mombasa County, , Kenya Power (KPLC),Kenya Ports Authority (KPA), National Social Security Fund (NSSF), Kenya Pipeline Corporation (KPC), New KCC and LapFund

NAIROBI, Kenya- Former world marathon champion,Douglas Wakiihuri, has urged corporate to come forward and support various sports disciplines to help local athletes realise their dreams.
The former Commonwealth Games champion has also appreciated the work being done by Safaricom Sports Personality of the Year Awards (SOYAS)organisers to help recognise athletes who have excelled in their categories.
" The only way to increase Kenya's medal tally at the Olympics is to help in the promotion of fringe games," underlined Wakiihiuri who is also the SOYAS brand ambassador.
He thanked various firms who have come on board to support the 2018 SOYAS slated for Fort Jesus, Mombasa on January 11.
Among the companies that have come have come foward to support the event are the Communication Authority of Kenya (CA) who injected KSh3 million (USD30,000) on Friday as SuperSport and MultiChoice Kenya gave out KSh750,000 (USD8000).
"We believe in the spirit of sportsmanship. We also acknowledge the role that sports plays in Kenya and the great effort our sportsmen and women put in to excel," CA Director for Frequency Spectrum Management,Tom Olwero,underlined during the cheque hand-over in Nairobi on Friday.
"We wish to see more and more sports personalities come up as we nurture and grow these disciplines," he added.
Other sponsors on board include Safaricom Limited, Mombasa County, , Kenya Power (KPLC),Kenya Ports Authority (KPA), National Social Security Fund (NSSF), Kenya Pipeline Corporation (KPC), New KCC and LapFund.