SJAK, StarTimes Extend Sport Personality Of The Month Award Deal
21st November 2018 - by Mutwiri Mutuota
The one-year agreement worth Ksh4.5m comes with a KSh290,000 monthly facilitation fee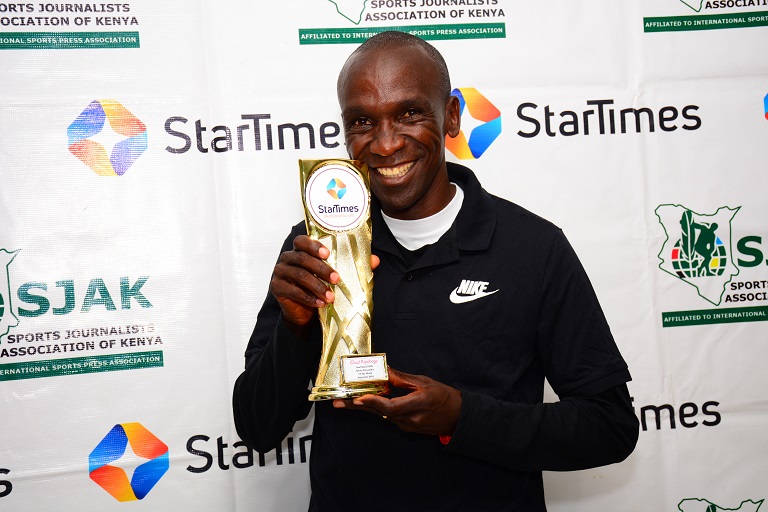 SUMMARY
Sports Journalists Association of Kenya (SJAK) chairman, Chris Mbaisi and the pay television service provider's brand marketing and public relations manager, Japheth Akhulia put pen to paper to continue the agreement
The awards are aimed at rewarding excellence across other sporting disciplines apart from football that has its separate monthly presentations
Outside distance running, World Boxing Council women's champion Fatuma Zarika, Kenya topped ranked Tennis player Ismael Changawa, Safari 7s women's MVP Janet Okello, Africa Rally champion Manvir Baryan and hockey star goallie Cynthia Akinyi among others have also been honoured
NAIROBI, Kenya- The local SJAK/StarTimes Sports Personality of the Month Award will roll to a second year following the extension of its facilitation deal valued at KSh4.5m on Wednesday in Nairobi.
Sports Journalists Association of Kenya (SJAK) chairman, Chris Mbaisi and the pay television service provider's brand marketing and public relations manager, Japheth Akhulia put pen to paper to continue the agreement.
The awards are aimed at rewarding excellence across other sporting disciplines apart from football that has its separate monthly presentations. 
"The one-year deal comes with a monthly facilitation of KSh290,000 as well as a StarTimes 43 inch digital television set and customized trophy for the beneficiary of the award valued at KSh4.5 million a year," a press statement from SJAK announcing the extension read in part.
Since its inception, the award has acknowledged efforts of deserving sports personalities among them Olympic champion and world marathon record holder, Eliud Kipchoge and Commonwealth Games men 800m titleholder, Wycliffe Kinyamal.
Outside distance running, World Boxing Council women's champion Fatuma Zarika, Kenya topped ranked Tennis player Ismael Changawa, Safari 7s women's MVP Janet Okello, Africa Rally champion Manvir Baryan and hockey star goallie Cynthia Akinyi among others have also been honoured.
"The monthly award goes a long way in whipping up the enthusiasm of various individuals who perform exemplary well in their disciplines. 
"Such initiatives have motivated our sports personalities to go an extra mile in achieving higher limits," Mbaisi noted.
"This is testament to our diversity in appreciating our sportsmen and women as we seek to reward excellence across the diverse sports disciplines," Akhulia added.
Leading bookmakers, SportPesa partner with SJAK to execute the Footballer of the Month Award.