Rudisha Motivates Sharks Ahead Of CAF Clash With Kotoko
Dec 14 - by Erick Ochieng for SportPesa News
The Kenyan outtfit head to the continental first leg encounter buoyed with a 9-1 aggregate win against Arta Solar 7 FC of Djibouti in the preliminaries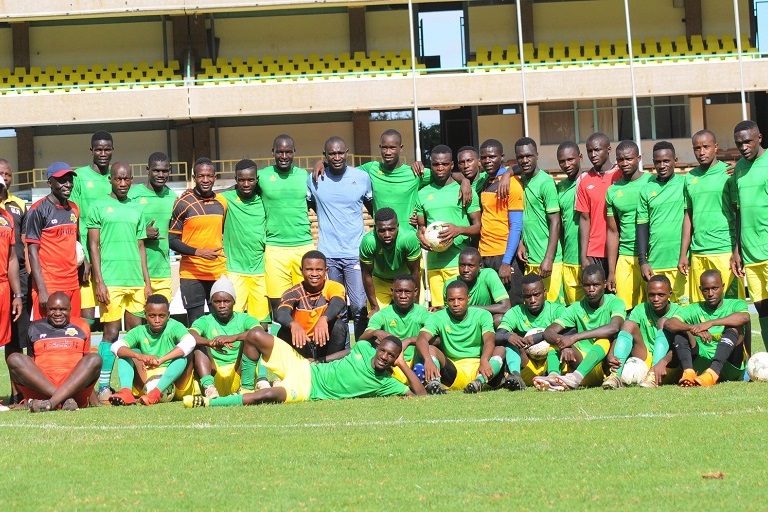 Kariobangi Sharks FC have been motivated by Olympics men's 800m champion, David Rudisha, ahead of their CAF Confederation Cup first round clash with Asante Kotoko FC of Ghana at Moi International Sports Centre, Kasarani, on Saturday

The men's 800m record holder told Sharks to take one game at a time and to cultivate patience, a virtue he said

 

has helped him a great deal

 

in his quest for glory in athletics
Muluya noted that he used their SportPesa Premier League (SPL)

 

encounter against AFC Leopards at Kenyatta Stadium in Machakos last Sunday that ended in a 1-1 stalemate

 

to gauge the line-up that will be up against the Ghanaian outfit at Kasarani

Sharks made history when they won their first ever trophy by lifting the 2018 Shield Cup after a breathtaking 3-2 victory over Sofapaka FC at Kasarani on October 20
NAIROBI, Kenya- Kariobangi Sharks FC have been motivated by Olympics men's 800m champion, David Rudisha, ahead of their CAF Confederation Cup first round clash with Asante Kotoko FC of Ghana at Moi International Sports Centre, Kasarani, in Nairobi on Saturday.
The 2010 IAAF World Athlete of the Year encouraged the players to believe in themselves as they scale the heights of the continental football showpiece.
"You have reached here because you are capable, don't feel intimidated by the past history of your opponents.
"You can achieve your wildest dream by having a strong mental focus, nothing can stop you when you are determined," Rudisha, who has started training ahead of next year's IAAF World Athletics Championships to be held in Doha, Qatar, told the players.
The men's 800m record holder told Sharks to take one game at a time and to cultivate patience, a virtue he said has helped him a great deal in his quest for glory in athletics.
"Persevere in what you do, be resilience, never give up.Remember the country's hope is on you so kindly represent Kenya well in the tournament on Saturday," Rudisha underscored.
Olympics 800m men's champion, David Rudisha with Kariobangi Sharks FC players at Moi International Sports Centre, Kasarani, on December 13, 2018. PHOTO/KARIOBANGI SHARKS

Sharks tactician, William Muluya,said Rudisha's visit has boosted the team half way ahead of the game he predicted will be a tough battle for both sides.
"We are already inspired to play a big team like Kotoko.It will be a good experience for us to challenge a side that has bagged CAF Champions League trophy twice," Muluya told SportPesa News.
Muluya noted that he used their SportPesa Premier League (SPL) encounter against AFC Leopards SC at Kenyatta Stadium in Machakos last Sunday that ended in a 1-1 stalemate to gauge the line-up that will be up against the Ghanaian outfit at Kasarani.
Valuable player

However, he rues the absence of his dependable forward Eric Kapaito, who is also the reigning SPL Most Valuable Player.Kapaito is still nursing an injury and won't be available for the match.
"He will miss both legs, we expect him to be back to full training in January. He is recovering and right now he has started jogging on his way to full fitness," Muluya underlined.
Kotoko, who arrived in the country on Wednesday morning in a contingent of 30, sailed to the championship's first round to face Sharks after CAF disqualified Cameroonian side, Eding Sport FC, for submitting their representation late.
Sharks made history when they won their first ever trophy by lifting the 2018 Shield Cup after a breathtaking 3-2 victory over Sofapaka FC at Kasarani on October 20.
The epic victory in the domestic cup for the club that came into existence in 2000 propelled them to the 2018/ 2019 CAF Confederations Cup where they started off with a 9-1 aggregate win against Arta Solar7 of Djibouti in the preliminaries.