Retired Liverpool Stars Barnes, Hyppia, Smicer To Tour Kenya
Jan 09 - by SPN Correspondent for SportPesa News
Anfield giants to set up the LFC World Hub in Nairobi on February 23 and 24 with live viewing of clash against fierce rivals Manchester United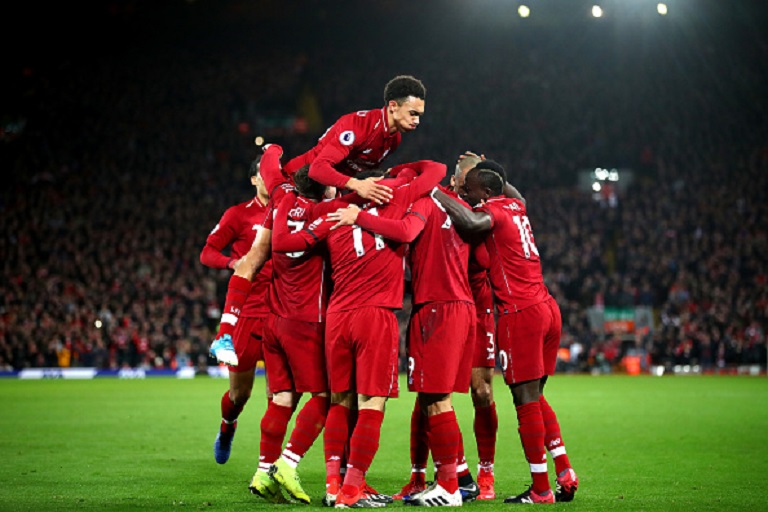 According to tour organisers Standard Chartered, fans of the 18-time English league champions "will be able to enjoy a whole host of activities for all ages and even meet with some of their LFC heroes" at St. Mary's School in the Kenyan capital from 11am to 7pm local time (+3GMT) on both days
Supporters can sit under the shirts of current stars – Mohamed Salah, Sadio Mane, Naby Keita and Roberto Firmino – to recreate their own iconic dressing room image
Liverpool lead the standings on 54 points, four ahead of titleholders Manchester City FC as they pursue their first EPL crown having last won the old English First Division in 1989
NAIROBI, Kenya- English Premier League (EPL) leaders, Liverpool FC's retired stars, John Barnes, Sami Hyppia and Vladimir Smicer will tour the country on February 23 and 24 to set up the LFC World Hub in Nairobi.
According to tour organisers Standard Chartered, fans of the 18-time English league champions "will be able to enjoy a whole host of activities for all ages and even meet with some of their LFC heroes" at St. Mary's School in the Kenyan capital from 11am to 7pm local time (+3GMT) on both days.
"For Reds in Kenya, LFC World Nairobi is the place to be. We know not all our fans can make it to Anfield, so this is our way of bringing Anfield closer to them. We can't wait to meet everyone, it's going to be a fantastic weekend," said Hyypia.
Within the Hub, fans will be able to have their very own taste of Anfield with recreations of iconic landmarks such as the Shankly Gates, This Is Anfield sign and LFC World's very own version of the Anfield dressing room.
Anfield giants
Supporters can sit under the shirts of current stars – Mohamed Salah, Sadio Mane, Naby Keita and Roberto Firmino – to recreate their own iconic dressing room image.
Supporters also have the opportunity to have their photo taken with one of the most iconic trophies in world football – the Champions League Trophy.
Fans will also watch the Anfield giants take on archrivals Manchester United FC on February 24 as part of activities.
"Through this partnership, we have rolled out several brand awareness activities across Asia, Africa and the Middle East.
"I believe bringing LFC Legends, the interactive experience from one of the world's best football clubs, and soccer clinics targeting young budding talents, would be the perfect testament of our commitment," Standard Chartered Bank Kenya CEO Lamin Manjang said.
Liverpool lead the standings on 54 points, four ahead of titleholders Manchester City FC as they pursue their first EPL crown having last won the old English First Division in 1989.
Fans wishing to attend the event will need to register online for their free tickets: https://www.liverpoolfc.com/lfcworld/nairobi